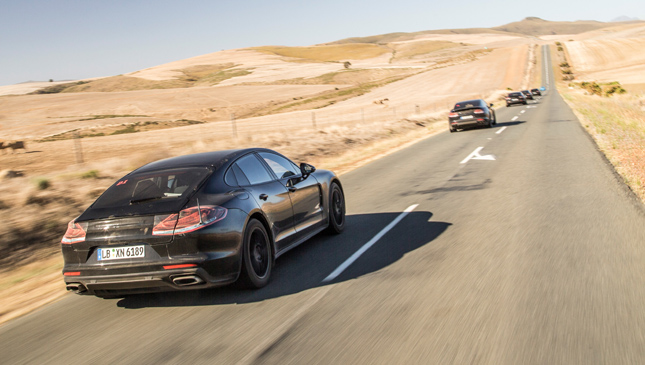 The world got its first glimpse of the Porsche Panamera at the Shanghai International Auto Show back in April of 2009. While it looked pretty much like a 911 up front, something seemed amiss--it had four doors. Moreover, this particular model had its engine at the opposite end of the chassis as opposed to the rear-mounted motors of traditional Weissach sports cars. The gamble paid off, with the Panamera's volume sales making it possible for Porsche to keep producing beloved models like the 911.
It has proven so successful that Porsche will soon launch the second generation of the four-door sports sedan. But before it does, it has to make sure that the car is perfect. And that's by putting the car through its paces. Unlike other automakers, however, Porsche sets itself apart by letting loose its test mules in extreme conditions with equally polarizing climates--a place known as South Africa.
Engineers and test drivers put a team of heavily clad Panameras through a rigorous trip from Cape Town to Little Karoo, with the Drankenstein Mountains and Hermanus in between. While this route has been touted as a scenic travel destination, it is likewise known for being harsh on passengers and their rides. Gravel, mountain passes, desert and sand, as well as hot and moist conditions. It's the best way to see how a new car will hold up.
Continue reading below ↓
Recommended Videos
All the data collected on this journey will be sent back to Weissach for processing and evaluation. This will give the crew at the Porsche Development Center the knowledge they need to put together a comfortable, sporty yet extremely capable road car. So once the Mark II Panamera hits the streets, it will have no problem tackling the rigors of everyday life--a walk in the park compared to what the car went through in testing.