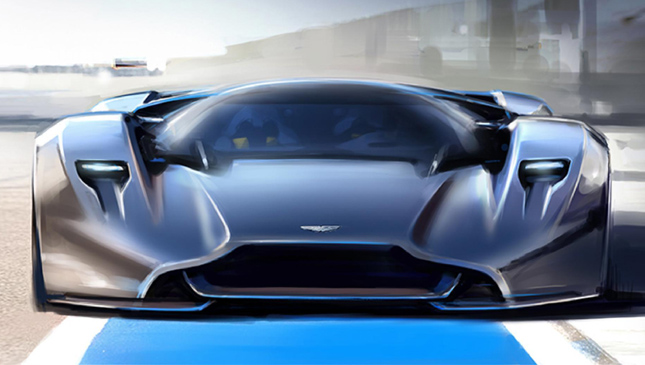 You might want to sit down and pay attention to this one. Yesterday, Aston Martin and Red Bull Racing announced that they would work together to build a "groundbreaking" new Aston hypercar.
It's codenamed AM-RB 001--how very Bond--and is said to meld Formula 1 tech with Aston's "signature sports-car design." In fact, Red Bull boss Christian Horner reckons it will become the "ultimate of all road cars" when it appears in (likely) 2018.
Red Bull Racing's Adrian Newey and Aston's Marek Reichman are the brains behind the new car, which isn't a track-only special (like the Vulcan), but one built specifically for the road.
At this early stage then, details are naturally thin. Aston reckons it will boast Formula 1 and LMP1-style performance, with the lofty ambition of posting a lap time around Silverstone quicker than today's crop of F1 cars. Yikes.
Of course, no engine or drivetrain specifics have been mentioned as yet, but a hybrid could be under consideration. And surely, Aston must be thinking about deploying some iteration of that lovely 7.0-liter V12 from the track-only Vulcan?
We'll find out soon enough--apparently, we'll see some fruit of their labor before the year is out. It'll be grippy, no doubt, with Newey's F1 expertise pivotal to the AM (RB 001's likely high levels of downforce, and Reichman's penmanship put to the extreme).
Continue reading below ↓
Recommended Videos
"We are in the process of developing a hypercar that combines the latest in aerodynamics from F1 and the stunning design language of an Aston Martin sports car," said Reichman. Are we looking at a real-life version of Aston's stunning Gran Turismo racer, the DP-100 (pictured above)? We have many fingers crossed.
Newey's involvement, of course, brings a long-held desire to build a road-going race car to fruition.
"From the age of six, I have had two goals in life," Newey said. "To be involved in the design of racing cars, and to be involved in the design of a supercar. While the former ambition went on to form my career to date, the latter has always bubbled away, resulting in countless sketches and doodles over the years."
Aston boss Andy Palmer added: "These are exciting times for Aston Martin, and arriving hot on the heels of our DB11 launch earlier this month, this new partnership underlines that our brand really is racing again."
The Aston/Red Bull partnership also brings an Aston Martin badge back to Formula 1 for the first time since the 1960s, as the company's logos will adorn this year's RB12 racers.
So, until we have more information, let us know how you think this ultimate Aston Martin will pan out.
NOTE: This article originally appeared on TopGear.com. Minor edits have been made.