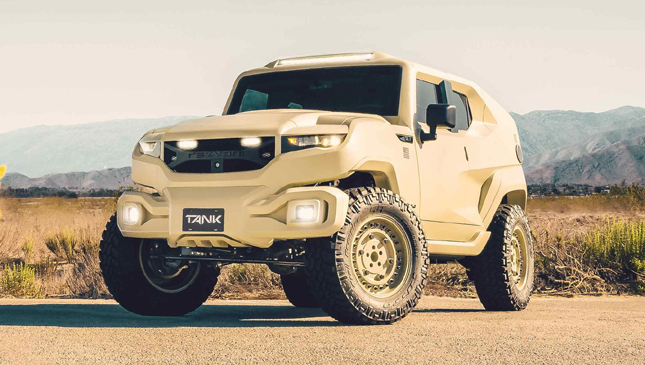 Intimidating SUVs? We've featured a ton of them over the years. But this one, the Rezvani Tank Military Edition, is by far the most menacing one yet.
In case you're not familiar with the nameplate, Rezvani is a California-based performance car design studio responsible for some of the sickest rides in the US. The Tank, its largest offering to date, came out last year and immediately grabbed everyone's attention with its threatening persona. It's also Jamie Foxx's ride of choice.
The Tank's militarized version is on a whole other level though. For starters, it's covered in ballistic level 7 bulletproof glass and body armor—everything from its fuel tank, radiator and underside (which features explosive protection) can take a beating.
Continue reading below ↓
Recommended Videos
Then there's the look: That desert-themed paint job couldn't be more fitting. It runs on military run-flat tires, boasts mean Ram bumpers, and comes equipped with more LED lights than anyone would know what to do with. But all that ruggedness outside doesn't make its interior any less appealing. This Tank can absorb projectiles while keeping occupants wrapped in the comforts of leather seats and a suede headliner.
Finally, the extras. There's enough gear in here to give Q's arsenal a run for its money. Electrified door handles? Check. Magnetic dead bolts? Check. An intercom system, gas masks, electronic scanners, reinforced suspension, hypothermia kit? More checks than at a TSA checkpoint on red alert.
Hell, there's even a grenade in the photos. As to whether or not it's a live one, we're not entirely sure. But we wouldn't be surprised if whoever came up with this equipment threw a real one in there just for kicks. Buyers can choose between a 6.4-liter V8 and a 6.2-liter supercharged Hellcat V8 engine.
Basically, owners of the Rezvani Tank Military Edition are going to be very, very hard to kill, whether they pissed off a terrorist group or accidentally run over John Wick's dog. If your life is worth $295,000 (P16 million) to you, and your bank account is way more than that, then order yours ASAP.