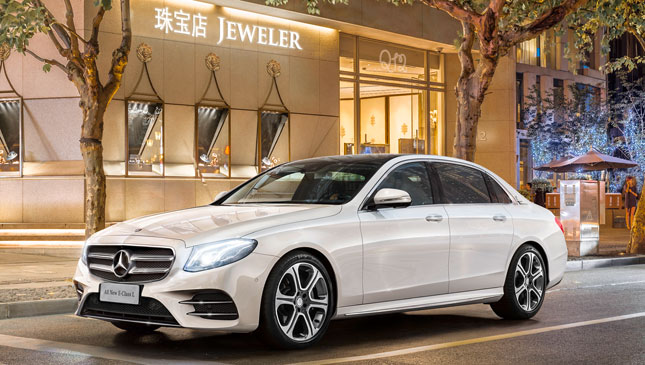 Mercedes-Benz has just unveiled a new long-wheelbase version of its popular E-Class midsize sedan. The new car is built in China, specifically for the Chinese market. Measuring 5,063mm long, with a wheelbase that spans 3,079mm, the stretch sedan is some 140mm longer than the standard car.
The most obvious design differences that set this car apart are the longer roof line, the triangular windows in the C-pillars, and, of course, the extended length. Designers thought of the proportions from the onset, giving the car the flowing lines of the short-wheelbase version, complete with the coupe-like roof and the short overhangs. The radiator grille even comes in two distinct styles: one with the traditional tri-star logo on the hood, and one with the Merc badge at the center of the grille.
Of course, what really makes the new limousine unique is the additional legroom at the rear. Passengers will get a chance to stretch their legs and revel in the extra 134mm of space afforded by the longer wheel span. They also get all sorts of toys, such as a centrally mounted Controller interface for the infotainment system. It comes with handwriting recognition, and controls all the car's functions at the command of a touchscreen (or touchpad, in this case). Moreover, the ambient lighting lets occupants choose from as many as 64 kinds of glow. Talk about virtual customization.
Rear-seat occupants also get a center console that offers a variety of storage and control functions to give them a sense of being in control even from the backseat. Apart from the integrated cupholders and the illuminated storage box, the console comes with USB ports, mobile wireless charging, and a touchscreen controller.
Naturally, this long-wheelbase E-Class comes with a slew of luxury and driver-assistance systems as standard or optional extras. The finest veneers and leathers line the luxurious cabin. Then there are safety features like Attention Assist that helps keep your chauffeur alert, Active Brake Assist that keeps things in check even on the most slippery surfaces, and toys like Drive Pilot and Remote Parking. All these will give the discriminating buyer a lot to play with.
This E-Class model is a joint venture between Daimler and Chinese carmaker BAIC, under Bejing Benz Automotive Company Limited. The car is aimed squarely at the growing upper crust of the Chinese market, which has long been in love with the brand and sees it as a symbol of success.