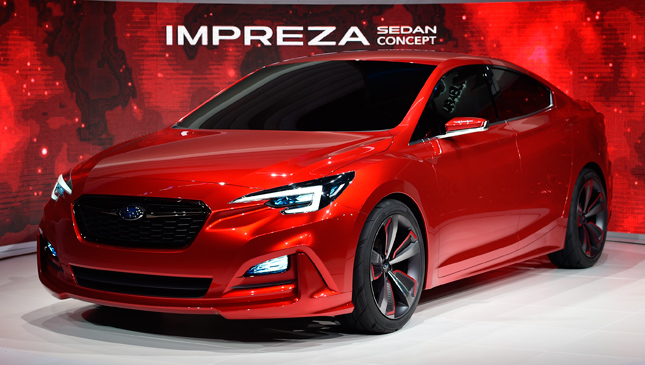 Admit it: You'd never choose a Subaru Impreza based on looks alone. This was especially true for the first two generations of the Japanese compact sedan. It was more about performance (particularly in WRX or WRX STI guise) and driving something straight out of WRC's history.
However, many have recently observed that Subarus are becoming a tad mainstream when it comes to their design. As with the Legacy, the Impreza has ditched its rally-inspired flanks in favor of a softer approach that is pleasing to more eyes than just racers and rally fans. And it seems that Subaru isn't stopping there, as it has unveiled a new Impreza concept at this year's Los Angeles Auto Show.
The Impreza Sedan Concept gives us a peek into what the next-generation compact will look like. And based on the design, it's shaping up to be a more stylish take on the model, while still retaining a few cues that give it the brand identity.
The front fascia, for instance, features the trademark Subaru Wide and Low stance, seen in the hexagonal grille that is flanked by those glaring hawk-eyed headlight clusters. The design gives a foretaste of a more dynamic appearance that extends all the way to the sides and the rear of the car. The sleek side profile is highlighted by two character lines: one running from the front fender to the rear shoulder, and another rising toward the rear on the lower portion of the doors. The concept is given more depth via fender flares that hint at the potential of the vaunted Symmetrical All-Wheel Drive. Finally, the overall Wide and Low demeanor continues with the taillights that mirror the same sleek look of the lights up front.
Continue reading below ↓
Recommended Videos
More dynamism and style can be seen in the greenhouse, which is now swoopier. The C-pillar, for example, is more curvaceous--matched perfectly by those bulging fenders. Overall, it's a truly modern take on a car that we know can perform.
Speaking of performance, Subaru hasn't revealed any technical specs as of press time. If you're not too fond of the design, we suggest you get used to it, as Subaru says this will be the direction it will take as far as its overall look will go. This is in line with its midterm management vision "Prominence 2020," which it unveiled in May of last year.
What do you think? Do you like the new Impreza and its swoopy stance? In any case, the upcoming model will make the compact sedan segment more exciting. This is particularly true since the new 10th-generation Honda Civic and the next-generation Hyundai Elantra have likewise joined the fray. Looks like a rivalry is brewing.