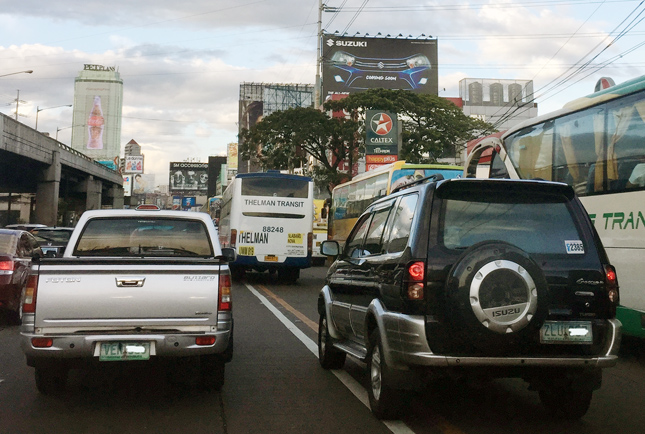 There are different ways we get to find out whether a carmaker is about to launch a new product in our market. The most common way, of course, is when the company notifies us directly way ahead of the launch date because it wants us to include said vehicle in an upcoming issue of the magazine (a cover request isn't uncommon).
Another way is via an "insider" who tips us off about the scheduled car introduction, but this is done "unofficially" as he/she is not authorized by his/her company to do so. And yet another way is by means of the most obvious of clues: regional schedule. If, for instance, Thailand unveils a Japanese midsize SUV in its market, you can be sure this model's arrival in the Philippines is just around the corner.
And there's the Suzuki Philippines way--at least as far as we're concerned.
There's this billboard on northbound EDSA just before Guadalupe that Suzuki uses to announce stuff, including launch teasers. Last year, we got wind of the Ertiga's forthcoming entry into our market via this same billboard. The copy was simple: SOON. Indeed, the model became officially available a few months later.
We chanced upon this very billboard last weekend, this time with the face of the all-new Celerio sporting a plate that says: COMING SOON. How soon is soon? Well, we first saw the Ertiga teaser billboard around April last year, and it was launched by Suzuki in July--a span of three months. Assuming the same timetable applies, we could see the new-generation Celerio around September. Or earlier...who knows?
Continue reading below ↓
Recommended Videos
A quick check with Suzuki Philippines' Facebook page confirms this.
The new Celerio is said to be assembled in both India and Thailand. We still don't know where our units will come from, but the ones from India are powered by a 1.0-liter, three-cylinder engine rated at 67hp and 90Nm.
Are you in the market for a small city car? You might want to wait for this.
Photo by Christina Chua