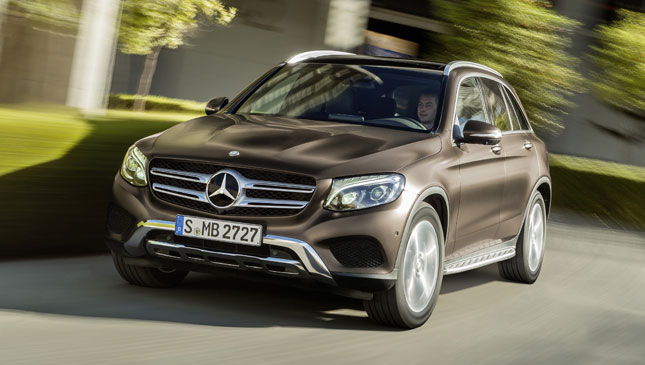 In April, we gave you a sneak peek at a concept car that seemed to blur the lines between sedan and SUV. That concept vehicle was the swoopy-looking Mercedes-Benz GLC Coupe Concept. Nearly two months after the teaser, Mercedes has finally unveiled the production version of the GLC.
A quick look at Merc's newest SUV may disappoint those who were hoping that the concept coupe's shape would be carried over to the production vehicle. Rather, the profile is a bit more upright than the low-slung roofline of the show car. That's because the GLC is actually the latest iteration of the GLK.
For the second generation, the renamed model now features a sleeker, rounder silhouette, as opposed to the boxy stance of the previous generation. This new model, says Mercedes, has more of a sporty and sensual vibe rather than the classic off-road character of most other SUVs out there—including the former GLK.
Still, you won't mistake it for anything else but a Mercedes-Benz. That's because it possesses styling cues such as the upright radiator grille with the now-familiar Merc fascia and the three-pointed star right smack in the center. The grille is flanked by high-performance LED headlamps with daytime running lights. While we did say that the shape is a bit more upright than the concept's look, the overall design still has that coupe-like appearance, emphasized even further by the signature dropping character line that is a hallmark of many Benzes for decades now. Sporty touches come from large fender flares, matte-black cladding, and equally large and stylish alloy wheels. The look is finished off by a broad rear end with split-type LED taillights for a truly distinctive touch.
Continue reading below ↓
Recommended Videos
The new GLC will be powered by a wide range of gasoline and diesel motors. These include a 170hp/400Nm unit for the GLC220 4Matic; a 204hp/500Nm mill for the GLC250 4Matic; and a 211hp/350Nm lump for the gasoline-powered GLC250 4Matic. Whether you choose gas or diesel, Mercedes claims that the new GLC will consume anywhere from 14.1 to 20km/L. This is thanks in part to these engines being Euro 6-complaint, and packing technologies such as auto start-stop, among others.
Speaking of fuel efficiency, the German luxury carmaker will likewise offer the GLC350 E 4Matic--a plug-in hybrid version that essentially combines off-road ability with low fuel consumption and carbon-dioxide emissions. This semi-electric SUV has a total system output of 211+116hp, can beat its traditionally powered siblings in the 0-100kph sprint with a time of just 5.9 seconds (as opposed to times ranging from 7.3 to 8.3 ticks, depending on the variant), has a top speed of 235kph, and can still go on full electric mode of up to 34km.
Riding in a Mercedes, it has been said, is like being inside a bank vault. Apart from the luxurious interiors that the new GLC offers, the solidity is further reinforced by intelligent driver aids such as multi-chamber air suspension, continuously adjustable damping, Agility Control suspension, and other systems that give a smooth yet fun ride and drive. Plus, drivers can choose from five driving modes (Eco, Comfort, Sport, Sport+ and individual) via the Dynamic Select Handling control system. And the previously mentioned off-road ability mixed with driving fun is made possible with a 9G-Tronic nine-speed automatic gearbox and 4Matic all-wheel drive.
Needless to say, safety is a given, what with stuff like Attention Assist, a slew of airbags, seatbelts with high-tech pretensioners, and other safety gear.
The important question is: When will distributor Auto Nation Group bring in the new GLC?