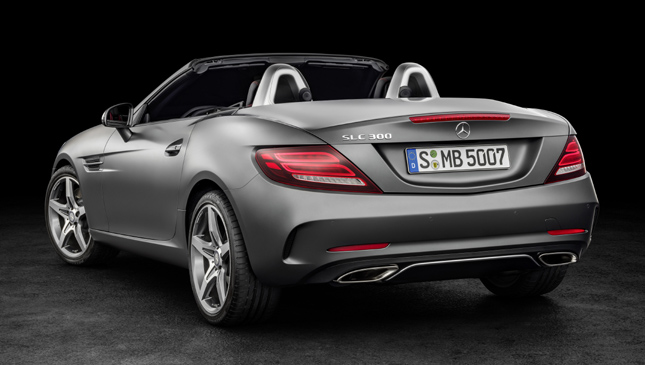 A lot of changes have been taking place at Mercedes-Benz lately. This is particularly true for the brand's SUV lineup, which has undergone an extensive name shuffle. The changes aren't just limited to the SUV models. The roadsters will likewise receive a nomenclature shakeup soon. The model we once knew as the compact SLK will hence be called the SLC. This comes in time for the nameplate's 20th birthday next year, by the way. So why the designation shift?
According to Mercedes-Benz, the SLK has always shared many of its components with the sporty yet stately compact C-Class sedan ever since the former first debuted in 1996. Since then, it has spanned three generations and has set a new standard in the compact roadster segment. One of these innovations is the vario-roof--a fixed hardtop that neatly tucks away at the press of a button. It was so cool that many other cars actually followed in its stylish, Transformers-like footsteps.
The latest SLC will be available with five variants at launch. The base model will be the SLC180 with a 1.6-liter four-cylinder motor that puts out 156hp and 250Nm. Next up is the SLC200 with a 2.0-liter four-cylinder engine rated at 184hp and 300Nm, followed by a more powerful 2.0-liter version in the guise of the SLC300, which produces 245hp and 370Nm. Meanwhile, the more frugal-minded motorists can opt for the SLC250 D with its 2.1-liter diesel lump rated at 204hp and 500Nm.
Continue reading below ↓
Recommended Videos
Those who really want a sporty drive should go for nothing less than the SLC43. The top-spec variant gets a 3.0-liter V6 that churns out 367hp and 520Nm. Each of these engines can be paired with the brand's vaunted 9G-Tronic nine-speed automatic transmission. A six-speed manual option can also be ordered.
This being a roadster, the star of the show is the vario-roof, which can now be opened and closed even on the go--up to speeds of 40kph to be exact. There is even a roof separator to maximize storage of the hardtop as well as the cargo-carrying capacity. And of course, heated seats and the AirScarf neck-level heating system keep passengers nice and toasty, should they insist on driving with the top down in cold weather.
The new SLC will enter the scene in March 2016. With its stylish looks, Mercedes-Benz build quality and opulence levels, and fine mix of handling and performance, it looks to be another winner--just like its SLK predecessor.