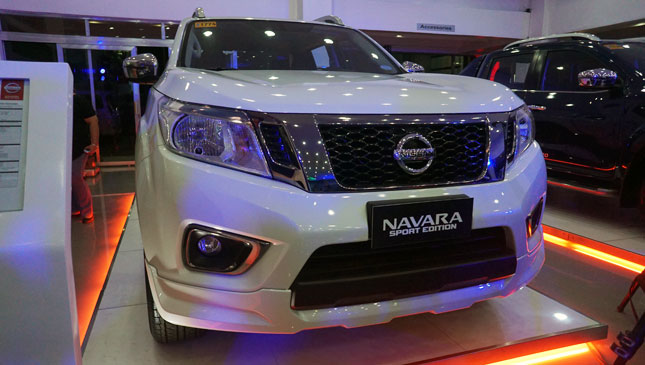 We believe the Nissan Navara is already the sportiest contender in its category. We've flung this truck into tight corners on the roads to Zambales, and it has rewarded us by displaying its remarkable handling.
So it came as a pleasant surprise that Nissan Philippines introduced a new variant of its popular pickup. It's simply called the Navara Sport Edition, and it carries with it mostly cosmetic improvements that nonetheless add to the model's appeal.
We never found a problem with the Navara's looks, but the new honeycomb grille is a welcome addition. Supporting this are a front skirt, foglamps wrapped in a dark-chrome finish, side steps, rear bumper, bed-liner, and a roll bar with an LED lamp. Among our favorite improvements--because they look good and are the only ones that affect handling--are the new 18-inch alloy wheels.
Tweaks to the cabin include a leather-wrapped steering wheel as well as more animal hide on the shift knob, the armrest and the door trims.
Under the hood is the same 2.5-liter turbodiesel mated to a seven-speed automatic gearbox. The Navara Sport Edition doesn't have a manual-transmission option. Available colors are Riptide Blue (a nice dark hue) and Aspen White.
The prices, meanwhile, are the following:
* 2.5L 4x4 VL 7AT - P1,656,000
* 2.5L 4x2 EL 7AT Calibre - P1,275,000
With a pickup like this, a cooler full of drinks in the back and a portable barbecue grill on the beach--that's our ideal summer right there.
Photos by Dinzo Tabamo