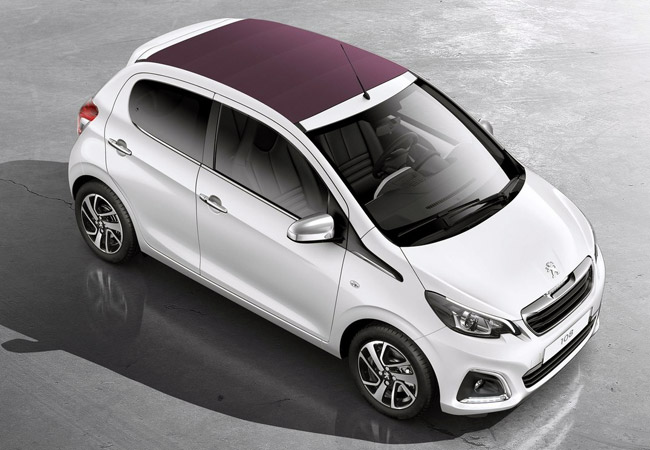 The world of motoring is indeed going small. French carmaker Peugeot is the latest to unveil a new city car, called the 108. Considered the replacement of the outgoing 107, this small baby shares its platform with the Toyota Aygo and the Citroen C1. It will be officially presented at the 2014 Geneva International Motor Show in March.
Available either with three or five doors, the 108 offers a range of four three-cyclinder engines: a 1.0-liter, 68hp e-VTi unit with a five-speed stick shift; a 1.0-liter, 68hp VTi motor with a five-speed manual transmission; a 1.0-liter, 68hp VTi with a five-speed electronic gearbox; and a new 1.2-liter, 82hp Puretech VTi also with a five-speed manual stick.
Depending on the variant and specifications, the 108 can weigh as light as 840kg. Measuring 3.47m long and 1.62m wide, this city car provides as much as 750L of space with the 50/50-split rear-seat backrests folded.
But the real selling point of the 108 is the degree of personalization its owner can do with it. For instance, the customer can choose the roof color he/she wants if a two-tone paint job is preferred. According to Peugeot, a total of seven personalization themes are on offer: Dressy, Dual, Kilt, Diamond, Barcode, Sport and Tattoo. On top of these, six trims are available, virtually ensuring that you won't run into a similar-looking unit on the road.
Of course, should Philippine importer Eurobrands Distributor Inc. bring this car here, we can't expect it to be as affordable as those city cars sold by Japanese and Korean brands. If so, at what price point do you think this would sell well in our market?
ADVERTISEMENT - CONTINUE READING BELOW ↓