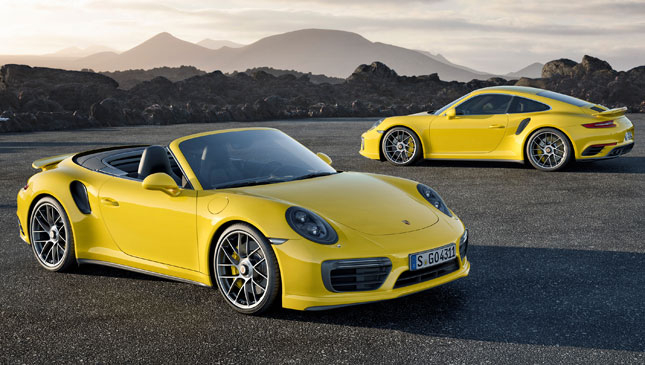 Comfortable cruiser, sports car, track weapon. Very seldom do these traits come together in one package. In fact, you usually find one or two of them in a car, but never all three at the same time. This is what the 2016 Porsche 911 Turbo and Turbo S promise once they bow into the market early next year.
Based on the current 991 generation, the new Turbo and Turbo S are face-lifted versions of the already potent and handsome model. Yet this one isn't a mere tweak of the front and rear ends. Those LED headlights with double fillets, side airblades, central air-inlet fin, and 20-inch wheels look really good--and that's just for the Turbo. The Turbo S adds seven-spoke alloys.
The 911 Turbo gets 9Jx20 front and 11.5Jx20 rear wheels--a half-inch wider, just like its Turbo S brother. A touch of the Carrera can be seen in the new door handles that lose the plastic shell inserts, as well as the 3D-effect taillights and four-point brake lights. Finally, the dual tailpipes have been revised, along with the three-part rear engine cover.
It's what's under that lid that really grabs headlines. The 3.8-liter turbocharged flat-six in the Turbo now puts out 540hp--up by 20hp. This is courtesy of new injector nozzles, intake ports, and higher fuel pressure. The Turbo S, meanwhile, gets a new turbocharger with enlarged compressors. This equates to a lofty 580hp. These changes translate to a 2.9-second, 0-100kph sprint, and a top speed of 330kph for the Turbo S. The numbers for the Turbo are 3.0 seconds and 320kph.
Continue reading below ↓
Recommended Videos
Being a Porsche, the new 911 Turbo and Turbo S don't just shine in a straight line. They are packed full of tech to make them drive well on any road. There's a new mode switch located on the 918-inspired sports steering wheel. The rotary ring allows drivers to choose from Normal, Sport, Sport Plus and Individual settings. Those who want more power in a flash can simply push the Sport Chrono's new Sport Response button, found right smack on the center of that selector switch. This gives the car that extra boost of power--just like NOS à la Fast & Furious (only cooler). And yes, the pair of top-dog 911s feature the alphabet soup of stability and traction assists like Porsche Stability Management Sport Mode and roll compensation.
The 2016 Porsche 911 Turbo and Turbo S will make their world premiere at the upcoming North American International Motor Show in January. Deliveries will begin shortly thereafter. With this upgraded package, it looks like we can have our driving cake and enjoy it, too.