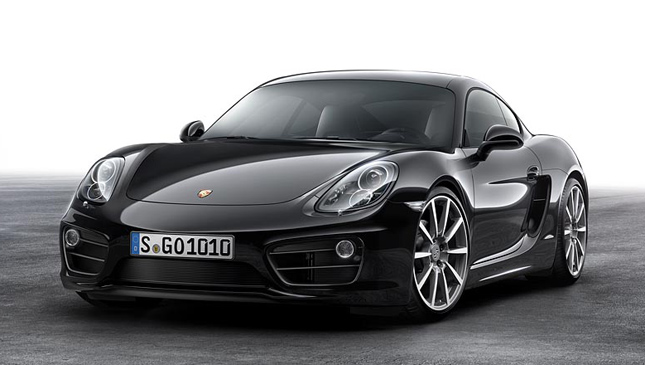 In May of this year, we showcased two special-edition models from Porsche. The 911 Carrera and Boxster Black Edition variants wowed the world with their elegant and sporty ebony exterior, and equally dark interior color scheme.
While many may argue that black is a dust magnet, or that it is hard to see at night, no one can deny its timeless elegance and beauty. There's just something about a car--whether it is a stretch limousine, an executive sedan, or a sporty two-door coupe--that's finished in black. As we said before, the shade that is considered as being the absence of color has given many automobiles a vibrant, er, color for decades.
And now, it is the Porsche Cayman's turn to receive the black treatment. The Cayman Black Edition is Porsche's latest take on its two-seat mid-engine sports car. The black paint job is enhanced by bi-xenon headlights with Porsche Dynamic Light System, along with the optional side window trim finished in aluminum. The look is made even cooler with 20-inch Carrera Classic alloy wheels.
ADVERTISEMENT - CONTINUE READING BELOW ↓
This being a special model, Porsche naturally filled it with equipment to make life easier and safer for the driver and his passenger. Buyers get stuff like Porsche Communication Management with navigation, which, if you recall, can even help you avoid traffic. Then there are anti-glare mirrors, rain-sensing wipers, front and rear parking assist, cruise control, and a Sport Design steering wheel. If these aren't enough, you can even throw in a dual-zone climate-control system, heated seats, and the Sound Package Plus audio system.
ADVERTISEMENT - CONTINUE READING BELOW ↓
Recommended Videos
But really, wouldn't you rather listen to what's under the rear engine cover? In this case, the Cayman Black Edition comes with the standard 2.7-liter flat-six motor that puts out 275hp. This allows the car to sprint from zero to 100kph in roughly 5.6 seconds.
Now on its second generation, the Porsche Cayman (named after the caiman reptile, and not the Island as many might think) first saw daylight in 2005. It is essentially a hardtop version of the Boxster roadster, and it makes perfect sense from both a marketing and performance standpoint. The Boxster was one of Porsche's most sellable models, not only because it was affordable but also because of its lightweight design that was just so fun to drive. And with a roof added to it, the Cayman just elevated the whole experience. It was essentially for those that wanted a 911 but just didn't have the cash for one--and that's not a bad thing.
ADVERTISEMENT - CONTINUE READING BELOW ↓
So if you want some fun, then here is one more reason to have it. You can even choose any color...as long as it's black.