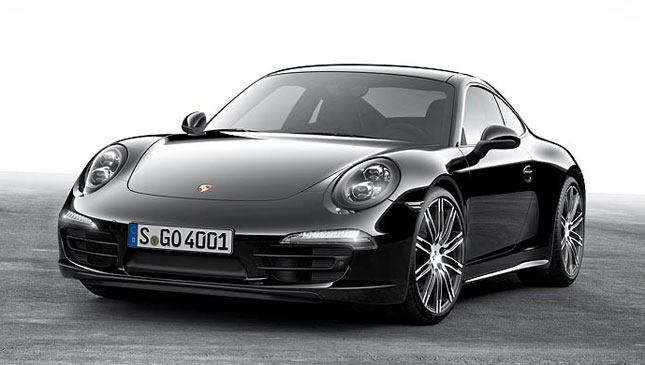 Thanks to advances in technology, car buyers can now choose from a slew of colors to suit their varied tastes. While you can specify even the wildest color that captures your imagination (and will catch onlookers' attention), there are some colors that remain timeless. One of these is black.
Black has always been a part of the automotive landscape. The shade that is known to have the absence of color has, er, given color to many automobiles for numerous generations. Even if some say it is a dust magnet, many still find it a classic. Just like Porsche.
Porsche has just introduced new variants to its two popular models: the 911 Carrera and Boxster Black Editions. Both cars sport black finished exterior and interior bits that emphasize their classic lines and timeless character.
The Boxster, for instance, looks particularly sporty finished in black. The classic roadster vibe is further emphasized by the black paintwork that matches nicely with the soft top and the safety roll bar, both of which are likewise done in the same color. The black scheme is contrasted by bi-xenon headlights that feature Porsche's dynamic light system, as well as the standard and very stylish 20-inch Carrera Classic wheels.
ADVERTISEMENT - CONTINUE READING BELOW ↓
ADVERTISEMENT - CONTINUE READING BELOW ↓
Recommended Videos
The two-seat cabin, meanwhile, treats the driver and the passenger to comforts such as heated seats, a two-zone climate control system, easy navigation via Porsche's communication management system, and an upgraded audio system with Sound Package Plus technology.
This being a pair of Porsche models, the real treat is in the drive. This is made truly enjoyable thanks to the 2.7-liter flat-six motor that puts out 265hp. Of course, safety comes first, so the driver gets some help from the front and rear park assist systems.
If you think that the Boxster Black Edition is awesome, wait til you check out the 911 Carrera Black Edition. Based on the standard 911, the Black Edition is made even more special with Porsche's dynamic light system, 20-inch 911 Turbo wheels, front and rear park assist, and, of course, the black paintwork that suits either coupe or convertible quite nicely. Driver and passenger are treated to heated sport seats and a Bose sound system. But frankly, we would rather listen to the sound of the 3.4-liter flat-six engine that produces 350hp. It's a truly timeless engine sound.
ADVERTISEMENT - CONTINUE READING BELOW ↓
The 911 Carrera and Boxster Black Edition models are set to go on sale by the end of July. You can choose any color as long as it's in black--or the optional Jet Black. Either way, it looks truly elegant, don't you think?