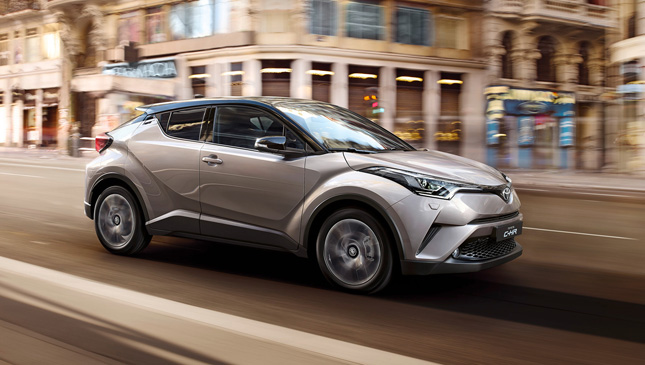 Ford hit a mini gold mine when it released the EcoSport in our market. It was priced like a subcompact--albeit a pricy one--but had an SUV-like ride height. And for the longest time it had no direct competition, although it looks like the Nissan Juke is encroaching into its territory.
A model on the horizon could shake up the segment, and we're talking about the daring Toyota C-HR. We've already seen what the production version looks like, and now Toyota's Australian media site has released official photos of the interior--and it's a stunner.
Like the bold exterior, the cabin melds technology and aesthetics in a layered instrument panel. A Tron-like blue light snakes through the dashboard, sandwiched between leather and piano-black material. Buttons are minimal, and the console is oriented toward the driver. A 6.1-inch touchscreen monitor juts out from the panel, helping driver visibility by keeping the rest of the dashboard low.
More symmetry between the outside and the inside of the C-HR can be seen in the diamond themes on the body and the door trim. Rounding out the features are a smart entry and start system, 18-inch alloy wheels, and dual-tone metallic paintwork.
Chief designer Kazuhiko Isawa said the C-HR will give Toyota a powerful presence in this growing segment, creating a new frontier with a vehicle that is full of originality. "That newness comes from SUV robustness and strength," he explained. "But we're not trying to make an SUV that's dynamic--rather, a dynamic vehicle with SUV-like properties."
Powering the C-HR is a 1.2-liter turbocharged gasoline engine that delivers 114hp and 185Nm. A six-speed manual or CVT will send power to a choice of front- or all-wheel drive.
We can't wait to see the C-HR in the metal, and see if the cabin feels as good as it looks.