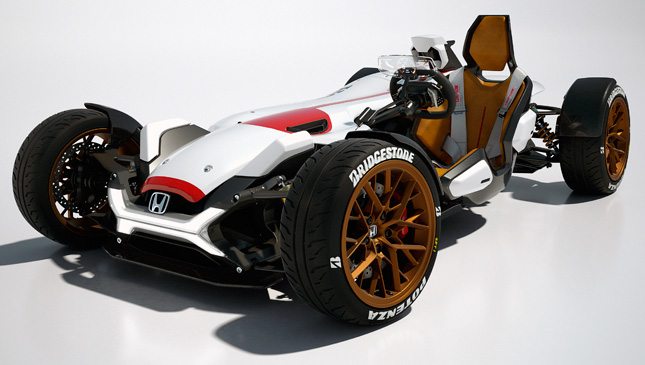 Remember the time when Honda used to be the Mazda of the car industry? Which is to say the era when the Japanese carmaker was exciting and fun. No? Then perhaps this little thing will remind you.
This is the Honda Project 2&4, so called because it celebrates the company's expertise in engine manufacturing for two- and four-wheel vehicles. Two and four...get it?
Honda recently held an in-house "Global Design Project" competition, in which more than 80 designers and creators participated. "The objective of this annual contest between Honda design studios is to challenge team and project members to share one goal and achieve high targets," Honda said in a statement. The Project 2&4 is the winner of said contest--conceived by Honda's motorcycle design studio in Asaka--and will be presented at the Frankfurt Motor Show next week.
Inspired by the Honda RA272 of 1965, the Project 2&4 measures 3,040mm in length, 1,820mm in width and 995mm in height, and weighs just 405kg.
ADVERTISEMENT - CONTINUE READING BELOW ↓
"The exhilarating feeling created from the open cockpit is significantly enhanced by the driver's seat, uniquely suspended just above the road," explained Honda. "The floating-seat design places the driver as close to the action as possible, evoking the freedom of a bike and completing the immersion provided by the Project 2&4's extreme performance, 14,000rpm redline and unique engineering."
The most important part of the concept vehicle is its motor, especially since this project is being used to "celebrate Honda's position as the world's leading engine manufacturer, providing engines to 28 million people per year across two- and four-wheel automotive, power equipment, marine and aerospace applications."
And so, doing duty for this vehicle is the RC213V competition motorcycle engine, reported to have been modified to run on public roads. The 999cc V4 four-stroke unit is rated in this configuration at 212hp and 118Nm, and mated to a six-speed DCT gearbox.
No idea what it feels like to drive this thing. But one look at these pictures and you know it promises all the driving thrill in the world.
ADVERTISEMENT - CONTINUE READING BELOW ↓
Recommended Videos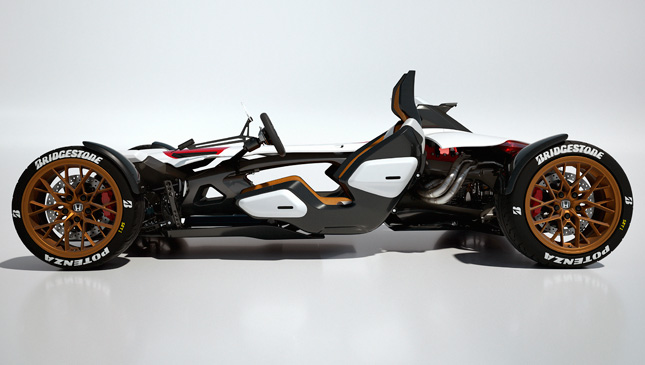 ADVERTISEMENT - CONTINUE READING BELOW ↓