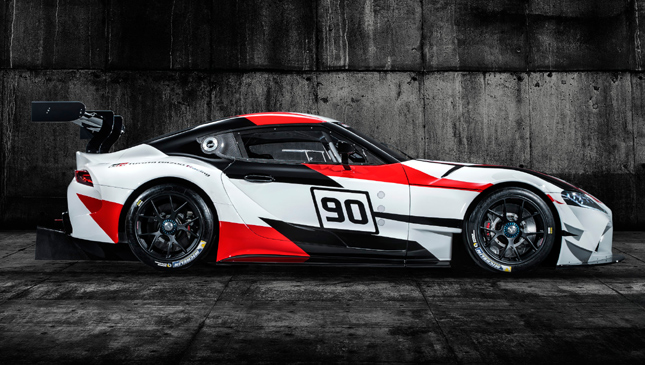 So this is it--the all-new Toyota Supra, albeit in the guise of a Gazoo Racing Concept rather than a production model. The legendary Japanese sports car made its return at the ongoing Geneva International Motor Show, and there's a lot to take in, and at the same time very little.
First off, let's talk about all that impressive aero it's clad in--drastic, aggressive and light. With or without all those bits though, it's fairly obvious that the production model will be a dramatic new take on the car's look rather than a familiar return to form.
The ginormous rear wing is obviously the first component to strike us, followed immediately by slightly less humongous front and rear bumpers, splitters, and diffusers--all of which are made from "lightweight composite material." The hood features louvered air vents, there's a single exhaust out back, and those devilish headlight and taillight designs are really something to look at.
Continue reading below ↓
Recommended Videos
The concept form runs on a lowered suspension, BBS wheels, Michelin racing tires, and Brembo brakes. And since we're talking competition-spec, the interior's as bare as can be and fitted with a roll cage. Perhaps most important, the all-new Supra stays true to its heritage by remaining front-engined and rear-wheel drive.
And that's about it. Like we said there's a lot to take in, but very little at the same time--a lot in the sense that it's been over 16 years since the Supra ended production, and very little because, well, there's no powertrain or specs.
Expect to see more of the Supra Gazoo Racing Concept pursuing "success at the highest levels of international motorsport, including the World Rally Championship, World Endurance Championship and the Le Mans 24 Hours race," Toyota says. "Taking part in these and other racing series around the world provides technical learnings that can be transferred from the racetrack or rally stage to development of not just new generations of Toyota's sports-focused GR models, but also to its wider range of vehicles, driven by tens of millions of people around the world."
Until more news surfaces regarding a production-spec model, this is all we have to go on. But hey, at least we won't need to make do with pixelated leaks, spy shots, and re-watching The Fast and the Furious over and over again, right? So, do you think the latest iteration of the Supra can continue the nameplate's storied legacy?