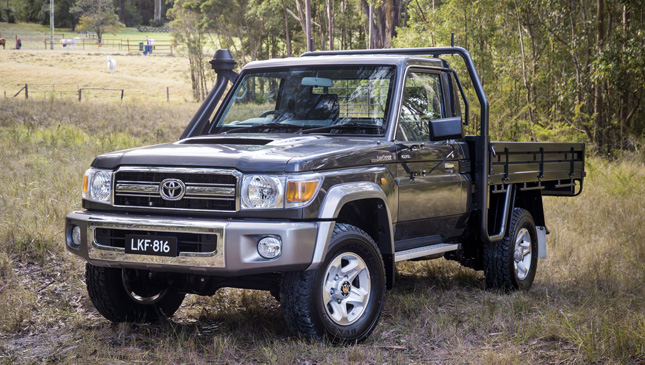 Over the years, the Toyota Land Cruiser has developed a reputation for being a luxurious ride. Its steady upmarket rise has earned it such monikers as "Congressman's favorite vehicle," among other things.
Despite this, no one can discount the LC's legendary off-road capability. The latest Series 200 and its smaller 100 Series brother can still rival a mountain goat when going off the beaten path. And in markets like Australia, the Land Cruiser spirit lives on in the rugged and retro 70 Series. Now, this iconic generation is set to receive significant updates that are said to bring the vehicle well into the modern age.
While styling remains mostly unchanged (a good thing for LC enthusiasts), the LC70 gets a stiffer chassis with more rigid side rails. This was made possible thanks to extensive testing in places like cattle patches and corrugated dirt roads--conditions that are home to the 70 Series. This also means improved NVH levels even on the most severe off-road trails.
Other areas engineers focused on are safety and stability. A new stability and traction control system will be fitted, helping to give the vehicle better grip while treading mud, dirt and surfaces where traction is at a minimum. Apart from this, all 70 Series variants will also come with safety gear such as hill-start assist, electronic brake-force distribution, brake assist, trailer sway control, and even cruise control. Moreover, each model, from the single cab to the wagon, will have five airbags (front, side and knee airbags).
Continue reading below ↓
Recommended Videos
The Land Cruiser 70 Series will still be powered by a 4.5-liter turbodiesel V8, featuring direct injection with Piezo injector technology. This helps make it one strong hauler, with lots of torque to tackle any terrain. And in true rugged fashion, the LC70 can only be had with a manual transmission.
The upgraded Land Cruiser 70 Series is set to arrive by the fourth quarter of 2016--but only in Australia, where the updates were designed and tested. But wouldn't it be nice if Toyota Motor Philippines could bring in a few units?