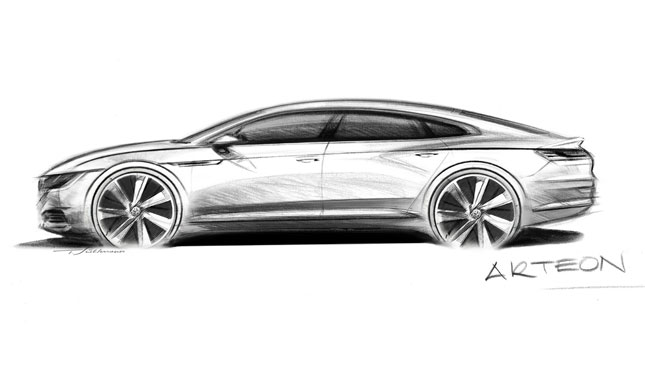 The good news is that there's a new car coming from Volkswagen. The Arteon will make its world premiere at the Geneva Motor Show in March, and its launch is scheduled for a few months after. The not-so-good news is that we don't have much info about this new premium sedan yet. All we've got is this sketch, a video of said sketch being made, and a few choice details.
ADVERTISEMENT - CONTINUE READING BELOW ↓
From the sketch, you can see that the four-door Arteon has a sleek and artsy design that almost looks Maserati-esque. Up front, the bars of the radiator grille extend into three-dimensional headlights. The car will feature LED lighting elements, frameless windows, and a top-hinged and wide-opening tailgate.
The car's look is derived from the two syllables in its name. 'Art' describes its sleek lines and emotional feel, while 'eon' identifies it as a premium model. Exterior designer Tobias Sühlmann explains: "At first sight, the Arteon arouses enthusiasm through its expressive design. It then surprises through its practical virtues. This combination is unique."
The Arteon will sit above the Passat in Volkswagen's lineup. And that's all we know so far. It might be a while until we find out more about this car. Who's excited for the full reveal of Volkswagen's newest premium sedan?
ADVERTISEMENT - CONTINUE READING BELOW ↓
Recommended Videos