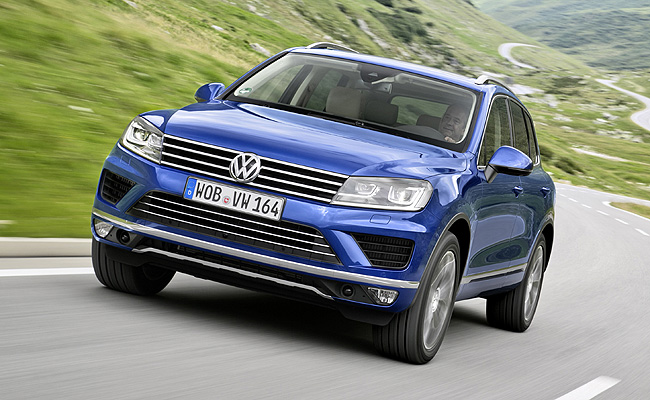 Volkswagen has updated the Touareg midsize SUV, giving it "a significantly sharper look" while supposedly enhancing the car technically in all areas.
The updated Touareg has redesigned front and rear ends, with the front now sporting bi-xenon headlights as standard, while the rear's taillights have also been revised as well. Four of the available 16 alloy wheels have also been given a new look: the 18-inch Arica; the 19-inch Salvador from Volkswagen R; the 20-inch Masafi; and the 20-inch Talladega from Volkswagen R.
For the interior, the aluminum switches have been redesigned so that they look as if they've been milled from a single block of metal. In addition, all the buttons and switches are now illuminated in white, replacing the previous red lighting, giving the cabin "an additionally refined feel." The range of interior colors and leather trim has also been extended to go with the two new decorative wood trims.
On the technical front, both the Touareg's 3.0-liter V6 engines have been modified and upgraded with the addition of a selective catalytic reduction catalytic converter that significantly reduces the amount of nitrogen oxides in exhaust fumes. This enables the vehicles to meet the demanding Euro 6 emissions standards.
Also new to the V6 is the addition of a coasting function in which the standard eight-speed automatic transmission is disengaged "in order to utilize the kinetic energy during periods where no acceleration is required and thus to reduce fuel consumption still further."
Continue reading below ↓
Recommended Videos
The output of the more powerful V6 engine has likewise been increased, from 242hp to 258hp despite its improved fuel consumption from 13.89km/L to 15.15km/L.
The sale of the updated Touareg in the Asian region is slated for "early 2015."