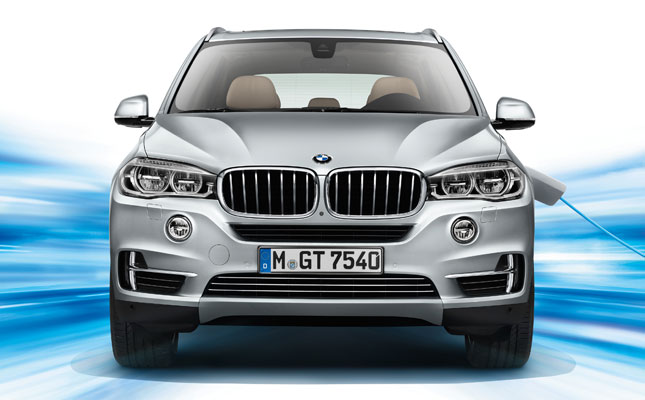 Despite their being around for over a decade now, there is still this notion that hybrid cars are nothing more than glorified golf carts that let you sit a bit more comfortably when stuck in traffic. While there are some sporty options such as the hot-looking Honda CR-Z, the typical image of a hybrid is still pretty much the Toyota Prius in its varying forms. And why not? Toyota practically invented the segment back in the late '90s.
BMW, however, seems to think otherwise as it has recently unveiled its own take on the plug-in hybrid. This comes in the form of the ultra-versatile BMW X5. Yes folks, the new X5 xDrive 40e variant is a plug-in hybrid wrapped in the brand's very own top-spec Sports Activity Vehicle.
The very first plug-in hybrid from the German carmaker doesn't just make motoring a lot cleaner, it likewise makes driving a lot more fun. Imagine wafting in full electric mode one minute, and then putting on the power in all-wheel-drive mode the next. The X5 xDrive 40e allows you to do just that. Or something to that effect, anyway.
To help achieve this sort of driving experience, the SAV uses a four-cylinder gasoline engine equipped with BMW's TwinPower turbo, an electric motor, and a flexible-charging lithium-ion battery tucked underneath the stylish and luxurious interior. This technology masterpiece gives a power output of 113hp and a torque output of 250Nm, and that's from the electric motor alone! The gasoline engine generates 245hp and 350Nm. This allows the X5 xDrive 40e to sprint from 0 to 100kph in a scant 6.8 seconds, all while consuming an average of 30.3km/L. Oh, and did we mention that you have the security of all-wheel drive?
Continue reading below ↓
Recommended Videos
As for the lithium-ion battery, BMW says that it can be charged by plugging into a standard wall outlet, BMW's own Wallbox charger, or any public charging outlet. Don't fret about the batteries taking up too much space, though. This plug-in hybrid still affords you 500-1,720L of cargo space, depending on the rear-seat configuration. Talk about true versatility.
This being a hybrid, you can choose from various driving modes. The Max eDrive mode, for instance, lets you drive in full electric mode for those urban areas or when you're stuck in traffic. You can even drive for up to 31km in this full-electric mode. Or you can combine the power and torque of both the gasoline and electric motors for that full-on driving experience--the kind that BMWs are best known for. This time, however, you can do so guilt-free.
The X5 xDrive 40e will be put together at the BMW Spartanburg plant in South Carolina, where the other regular X models are likewise assembled. In any case, this new Bimmer is another good reason for the Alternative Fuel Vehicles Incentives Act to be passed soon. Then we can hope to see cars such as these on our streets.