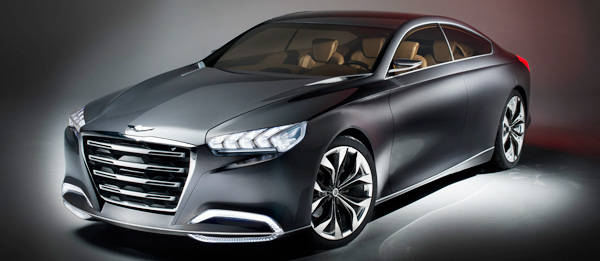 In the HCD-14 Genesis Concept, Hyundai has shown off not only its future design direction--particularly for its premium vehicles--but also the convenience features and cutting-edge technologies its cars could pack in a few years' time. The concept is the Korean carmaker's centerpiece at the ongoing Detroit Auto Show.
"We've departed from industry convention in many of our premium product, marketing, sales and service approaches, and it's worked out pretty well, with the Genesis and the Equus now delivering a nine-percent retail market share in their premium segments, higher than the five-percent retail share the Hyundai brand achieves in the overall industry," said Hyundai Motor America president and chief executive John Krafcik. "This success paves the way for a new generation of rear-wheel-drive premium products. The HCD-14 Genesis gives a hint of the design direction we'll be taking, and an indication of the focus we're placing on driving dynamics and technology."
The HCD-14 Genesis's front fascia is dominated by brushed metal grille surfaces with a deep vertical opening. The corners of the trunk lid, meanwhile, incorporate heat extractor design accents that integrate seamlessly with the side-mirror design. From the side, the classic rear-drive sport-sedan proportions are conveyed by the short overhangs, large-diameter wheels, sharply tapered greenhouse, and short rear deck.
Continue reading below ↓
Recommended Videos
Some of the features of the HCD-14 Genesis that further enhance its luxury orientation are the double-cresting-wave center console design, suicide rear doors, and state-of-the-art technologies like driver eye-tracking and 3D hand-gesture recognition.
Though no specific power output was given, the HCD-14 Genesis is equipped with a 5.0-liter Tau engine mated to an eight-speed automatic transmission operated via paddle shifters.