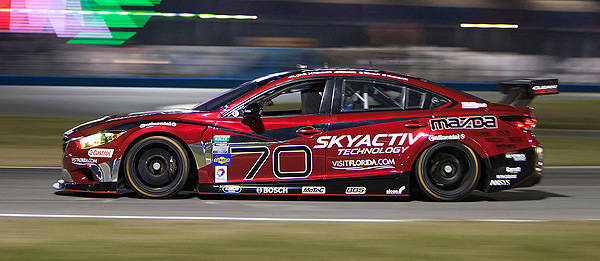 The Rolex 24-hour endurance race was held last weekend at the Daytona International Speedway in Daytona, Florida, and apparently, three Mazda 6 race cars were fielded in, powered by the Japanese carmaker's Skyactiv-D Clean Diesel engine.
What's even more surprising is that, according to Mazda, the race engine was very close to being production-based, with more than 60 percent consisting of stock components like the engine block and head.
Mazda added that the production Skyactiv-D Clean Diesel engine will be offered with the Mazda 6 later this year. Although the power output of the production engine wasn't divulged by Mazda, the carmaker did reveal that the race-tuned, twin-turbo powerplant produced 400hp and 603Nm of torque.
"While many know us as the 'rotary engine' company, and we love that part of our heritage, to race our latest Skyactiv-D Clean Diesel technology in our newest car--in the race where we have scored our largest number of wins--is amazing," said Mazda North America motorsports director John Doonan. "To get to this point, thousands and thousands of hours by engineers within Mazda in both Japan and the US...has produced what we see as our prime mover for the next decade: Skyactiv engines for racing."
Continue reading below ↓
Recommended Videos
Unfortunately for Mazda, while the team was seeking its 24th class win in the American endurance classic, the highest spot it could achieve was fourth in the GX class and 53rd overall.
Do you think Mazda's local distributor, Berjaya Auto Philippines, should bring in the diesel-fed Mazda 6 when it becomes available globally?