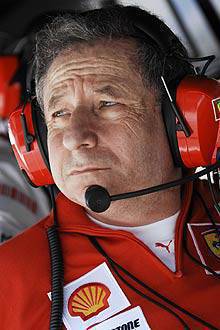 Fédération Internationale de l'Automobile's (FIA) president Jean Todt nonchalantly dismissed the complaint of Ferrari chairman Luca di Montezemolo, who called the plan to adopt 1.6-liter turbocharged inline-four engines in Formula One starting in the 2013 season "pathetic."
Todt, who was once Ferrari's Formula One team principal, said the plan to switch to 1.6-liter engines has been in place for years.
"The plan to implement the new regulation for the powertrain was taken years ago in favor of rule stability, cost prediction, and of course, the environment," Todt said during his one-day stay in the Philippines. "During the discussions for the future engine, Ferrari was present so they've been participating towards the evolution of the engine."
Continue reading below ↓
Recommended Videos
Todt though acknowledged Montezemolo's desire to use 12-cyinder engines for F1 because of Ferrari's history with that type of powerplant. He also cited the 16 years he had spent working with Montezemolo, saying that he knows him very well and that he's "a very sensible person."
Todt added that the decision to use 1.6-liter turbocharged engines was a result of lengthy discussions between different stakeholders involved in Formula One and with the technical people of the FIA.
For the 2013 season, the FIA expects the 1.6-liter turbocharged engines to deliver "a 35-percent reduction in fuel consumption" and will feature "extensive energy management and energy recovery systems, while maintaining current levels of performance."
Photo from Ferrari