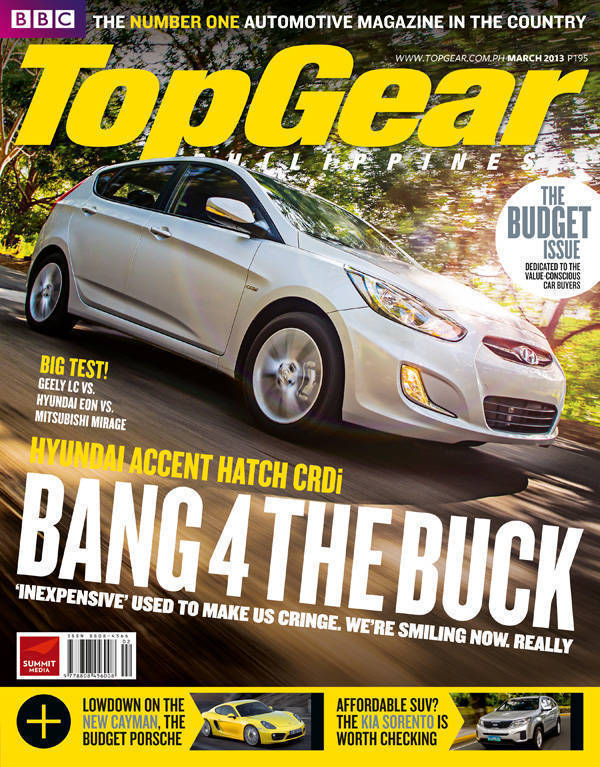 It's the season of school graduation. Those entering college and those leaving it both need to be mobile these days to stay competitive. To these young people, we dedicate our first-ever Budget Issue. This issue features affordable and value-packed vehicles--perfect for first-time car buyers. Inside the magazine are the following:
* An exclusive, full-feature story on the Philippine-spec Hyundai Accent Hatch CRDi;
* An actual SUV-shopper's review of the Kia Sorento;
* A close look at a Chinese car brand named Haima;
* The ABCs of online car-shopping;
* The difficult task of automotive product planners;
* The Big Test: Geely LC vs. Hyundai Eon vs. Mitsubishi Mirage;
* A preview of the new Cayman, the 'budget' Porsche;
* Driven: Chevrolet Sonic, Ford Focus, Honda Civic and Toyota RAV4;
* A primer on the 2013 Formula 1 season; and
* A-1 Driving School's first-ever training car back in 1977
These and so much more in these month's issue, which, by the way, costs P195 a copy as it comes with the fourth issue of Top Bikes magazine.
ADVERTISEMENT - CONTINUE READING BELOW ↓