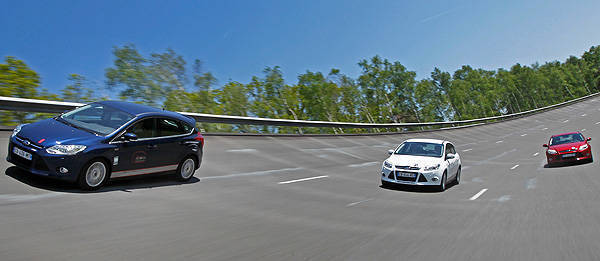 The Ford Focus with the 1.0-liter, 123hp EcoBoost engine recently proved its performance capabilities by setting 16 Federation Internationale de l'Automobile-accredited world speed records over distances from just under 1km to over 4,104km.
Over two days near the end of June at the CERAM test circuit in Mortefontaine, France, World Rally Championship driver Jari-Matti Latvala and eight journalists from France and the United States drove three Ford Focus 1.0-liter EcoBoost cars to set the 16 'sub-1.0-liter class' world records.
Some of the world speed records claimed by the three 1.0-liter EcoBoost models are for the one-mile and 1km standing and flying starts and the highest average speeds recorded over distances from 10km to 4,104.7km. The cars also set the highest average speed records over timed sessions lasting one, six, 12 and 24 hours. As for the highest average speed over one hour, the 1.0-liter EcoBoost-powered Focus was clocked doing 191.029kph.
"This little engine punches way above its weight when it comes to performance," said Latvala. "The records prove the Focus 1.0-liter EcoBoost can be lots of fun--and very frugal."
ADVERTISEMENT - CONTINUE READING BELOW ↓
The full list of records claimed by the 1.0-liter ecoBoost Ford Focuses are as follows:
* Standing start, one kilometer - 113.522kph
* Standing start, one mile - 79.402mph
* Flying start, one kilometer - 176.168kph
* Flying start, one mile - 108.548mph
* Highest average speed over 10km - 172.053kph
* Highest average speed over 100km - 187.579kph
* Highest average speed over 500km - 186.793kph
* Highest average speed over 10 miles - 110.237mph
* Highest average speed over 100 miles - 118.412mph
* Highest average speed over one hour - 191.056kph (118.716mph)
* Highest average speed over 1,000km - 164.361kph
* Highest average speed over 500 miles - 102.656mph
* Highest average speed over 1,000 miles - 103.357mph
* Highest average speed over 6 hours - 165.555kph (102.871mph)
* Highest average speed over 12 hours - 166.784kph (103.634mph)
* Highest average speed over 24 hours - 171.029kph (106.272mph)
ADVERTISEMENT - CONTINUE READING BELOW ↓
Recommended Videos