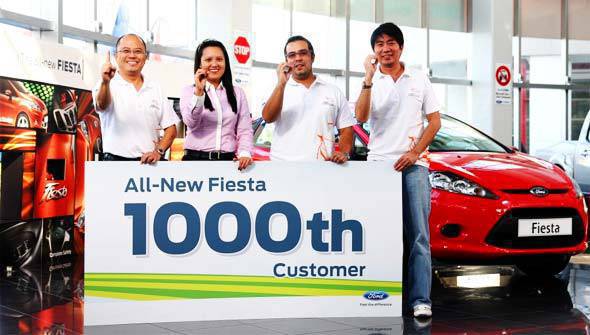 Ford Group Philippines remains confident in the Ford Fiesta's popularity and performance in the country as it recently marked a milestone in sales. Since its launch in August 2010, 1,000 units of the Ford Fiesta have been sold in the Philippines.
The 1,000th customer is Laarni Lozada, who said she bought the Fiesta for its features and value for money.
"I wasn't planning on buying the Ford Fiesta but as soon as I saw one in the South Mall display and test drove it, I was sold," Lozada said in a statement. "I found it to be very efficient for city driving, especially since I live in Las Piñas. I was amazed by its Bluetooth Voice Control technology and safety features like dual airbags and boron steel reinforcements."
The Ford Fiesta comes in 1.4-liter and 1.6-liter engine variants and customers have a choice between a four-door sedan and a five-door hatchback package. Pricing for the car starts at P670,000.
"The Fiesta's best-in-class offering--including its unique kinetic design, exceptional safety features, superior fuel efficiency, and cool and smart technologies--has really struck a chord with Filipino consumers," said Steven Tan, Ford Group's vice president for marketing and sales. "The Fiesta has gotten off to an exceptional start here in the Philippines, and we are confident about surpassing expectations this year."
Continue reading below ↓
Recommended Videos
[gallery]537[gallery]