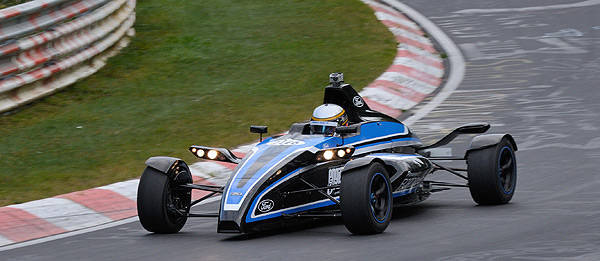 A road-legal version of the latest Formula Ford single-seat race car equipped with the American carmaker's small 1.0-liter EcoBoost engine recently lapped the Nurburgring's famed Nordschleife circuit in 7 minutes and 22 seconds. In the process, it set the 11th fastest time on the track and topped supercars like the Pagani Zonda, the Ferrari Enzo, and the Lamborghini Aventador.
"This little engine has people rubbing their eyes in disbelief," said Nick Tandy, the driver behind the wheel of the EcoBoost-powered Formula Ford. "It's simply astonishing that a three-cylinder, 1.0-liter engine can deliver that kind of performance."
The 1.0-liter EcoBoost engine is a specially tuned, 202hp version of the stock 123hp mill that was named last June as the International Engine of the Year. The tuned power unit will also reportedly replace the Formula Ford series' 178hp, 1.6-liter EcoBoost powerplant.
To make the Formula Ford car street-legal, the carmaker's engineers modified the vehicle by fitting it with wheel covers, front and rear lights and indicators, aerodynamically designed wing mirrors, and a horn. Also fitted to the car are a six-speed manual transmission and road-legal tires.
According to Ford, the 1.0-liter EcoBoost formula car has an unofficial top speed of around 255.5kph and has a 0-to-100kph time of less than four seconds. When it lapped the Nordschleife circuit, it did it at an average speed of 169kph. In addition, Ford claims that no other three- or even four-cylinder car has posted a faster time at the legendary circuit.
Continue reading below ↓
Recommended Videos
"We wanted to prove that size doesn't matter by showing everyone what an amazingly capable engine we have developed in the 1.0-liter EcoBoost," said Roelant de Waard, vice president of marketing and sales for Ford of Europe. "What better way to do that than by beating some of the best supercars in the world on the Nordschleife, while using a fraction of the fuel?"