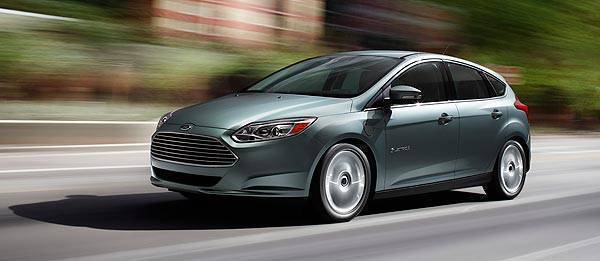 While Ford has yet to offer the Focus Electric in its showrooms, the American carmaker is making sure that the car's owners won't have to worry about the cost of recharging its battery as the company will offer its buyers a SunPower rooftop solar-power system as part of its "Drive Green for Life" program.
"Under the 'Drive Green for Life' program, Focus Electric owners can reduce their total cost of ownership by generating enough energy from their high-efficiency SunPower rooftop solar-power system to offset the electricity required to charge the vehicle at night," said Mike Tinskey, Ford's director of global vehicle electrification and infrastructure. "It's an eco-friendly solution that perfectly complements our plug-in products and other green initiatives."
The 2.5-kilowatt rooftop solar-power system consists of SunPower's E18 Series solar panels that produce an average of 3,000 kilowatt-hours of electricity annually. According to SunPower, these high-efficiency solar panels generate approximately 50 percent more electricity than conventional panels and utilize a smaller footprint on the roof. The system was also designed for customers who drive a distance of approximately 1,600 kilometers per month.
The rooftop solar-power system, however, doesn't come for free. It will be sold for approximately $10,000, although rebates and incentives may drive the price down depending on a customer's location.
Continue reading below ↓
Recommended Videos
"SunPower's innovative partnership with Ford is a win-win for customers, providing a comprehensive sustainability program," said Tom Werner, president and chief executive of SunPower. "By taking advantage of this program, Focus Electric customers can receive the added benefit of installing a SunPower solar-power system--the highest-efficiency, most reliable one on the market today, generating the electricity needed to charge their vehicles."
Oh, and in case you didn't know it, SunPower's solar cell plant is located in Santa Rosa, Laguna.