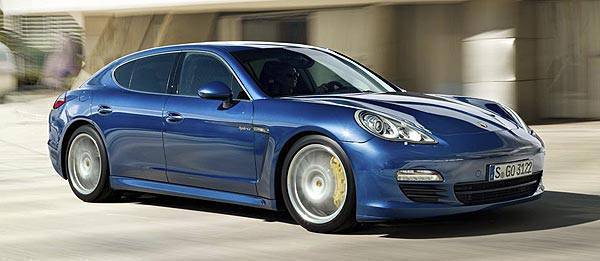 Porsche is really serious about hybrid technology as it will roll out at the Geneva International Motor Show in March its latest hybrid product--the Porsche Panamera S Hybrid.
Powering the Panamera S Hybrid is the same engine combination that has already proven itself in the Cayenne S Hybrid: a 3.0-liter V6 compressor engine that produces 333hp and is supported by a 47hp electric motor for a total power output of 380hp.
What's impressive, though, is that the Panamera S Hybrid's fuel consumption is only 6.8 liters for every 100 kilometers, which results in carbon dioxide emissions of just 159 grams per kilometer. This does not just make the Panamera S Hybrid the most economical Porsche ever, it also puts it ahead of all the full-hybrid production vehicles in the luxury class.
Credit for these impressive figures goes to Michelin's optional lower rolling resistance all-season tires developed specially for the Panamera. But even with standard tires, the new Porsche hybrid model's fuel consumption is still at a low 7.1 liters for every 100 kilometers, which equates to just 167 grams per kilometer of carbon dioxide emission.
The Panamera S Hybrid's electric motor also operates both as a generator and a starter. Connected to a nickel metal hydride battery, the electric motor utilizes energy recovered from both braking and driving, which is then stored in the battery. Transmitting the power to the Panamera S Hybrid's wheels is the familiar eight-speed Tiptronic S fitted as standard in the Cayenne models.
For the Panamera S Hybird, a zero to 100kph sprint is reached in 6.0 seconds before the luxury hybrid grand tourer reaches a top speed of 270kph. Powered purely by its battery, the Panamera S Hybrid's range is approximately two kilometers with speeds of up to 85kph.
Porsche's hybrid drive is also the only system in the world to exploit additional consumption reserves, thanks to "sailing" on motorways and main roads which entails disengaging and switching off the combustion engine at speeds of up to 165kph, during which no power is being produced by the combustion engine.
The Panamera S Hybrid will officially become available to the public in June of this year.
[gallery]783[gallery]