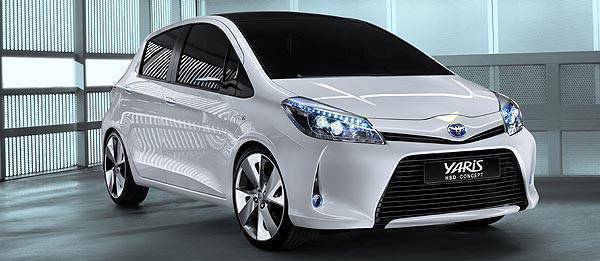 Toyota is preparing to roll out its full-hybrid technology across Europe by unveiling the Yaris Hybrid Synergy Drive (HSD) Concept at the Geneva International Motor Show.
The Yaris HSD Concept is based on the next-generation Yaris platform, which is currently available only in Japan. As such, it inherits the clever packaging that has been a fundamental element of the Yaris.
Despite its shared platform, the Yaris HSD Concept has a number of styling cues that identify it as a full-hybrid car. The upper grille opening is shallow, for example, and is flanked by highly-contoured headlamps to promote smoother airflow over the upper body. The flat, vertical "aero" corners minimize air turbulence while housing the front fog lamps and matching rear reflectors. Airflow is also managed by a large, integral rear spoiler, underbody covers and 18-inch aero wheels that have enlarged gaps to promote cooling. Even the door handles and rear side view cameras--featured in place of conventional door mirrors--have an aerodynamically efficient shape.
Toyota engineers have likewise continued to focus on how the car's overall performance can be improved by covering the Yaris HSD's roof with solar panels. This helps to provide independent power for the car's air conditioning unit, thus reducing its fuel consumption.
Continue reading below ↓
Recommended Videos
Introducing full-hybrid technology to the subcompact segment has also presented Toyota with some unique engineering challenges. First, the powertrain's design was designed to fit within the Yaris's compact packaging without compromising its quality, performance, and without sacrificing passenger and cargo space. Success in this task is important for Toyota to meet the growing demand for urban-friendly family vehicles that are looking to benefit from efficient use of space and hybrid performance.
The production model of the Yaris HSD Concept, which will be built at Toyota's Valenciennes plant in France, is expected to be launched for the European market in the second half of 2012.
The Yaris HSD Concept is part of Toyota's goal to offer full-hybrid power in all its models in Europe as early as possible in the 2020s. The production model of the Yaris HSD will be the second vehicle in Toyota's aforementioned program following last year's launch of the Auris HSD for the compact car segment.
Do you think this would also be a hit in the Philippines?
[gallery]800[gallery]