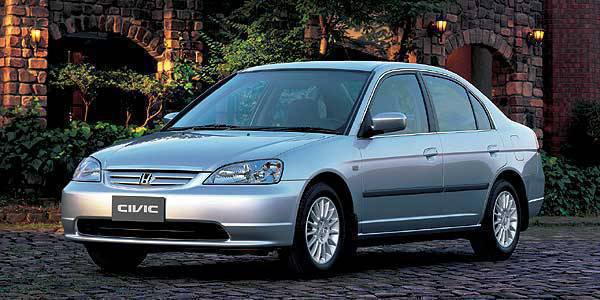 Honda Cars Philippines (HCPI) is conducting a voluntary recall of Civic 1.6 VTi-S units, which have been found to have defective passenger airbag inflator containers.
The defective sedans were locally-produced from 2001 to 2002 and 77 units are affected in the Philippines.
Findings from Honda Motor in Japan showed that the SRS inflator containers in the defective units "may rupture and cause some component parts to pop out upon deployment."
Honda said, however, that no known case of abnormal deployment has been reported related to the said defect.
"With the total safety of Honda vehicle users as priority at all times, HCPI is taking this voluntary service recall to replace SRS parts of affected units," Honda Cars Philippines said in a statement.
Replacement is free of charge and will be conducted in 27 authorized Honda dealers and three service centers nationwide.
Models with the following frame numbers are affected by the recall:
ADVERTISEMENT - CONTINUE READING BELOW ↓
YEAR

FRAME NUMBER

TOTAL UNITS

FROM

TO

2001

PADES56701V000001

PADES56701V000056

56

PADES56701V000058

PADES56701V000060

3

PADES56701V000070

1

PADES56701V000200

1

PADES56701V000244

1

PADES56701V000257

1

PADES56701V000324

PADES56701V000325

2

PADES56701V000491

1

PADES56701V000514

1

PADES56701V000516

1

PADES56701V000550

1

PADES56701V000628

1

PADES56701V000686

1

PADES56701V001127

1

PADES56701V001454

1

PADES56701V001527

1

PADES56701V001679

1

2002

PADES55602V100031

1

PADES55602V100091

1
Honda Cars Philippines is sending letters of notice to Civic owners in line with the recall. Owners are then advised to call their respective dealers or Honda's hotline (1-800-1000-Honda [46632] or [02] 857-7240) for inquiries and scheduling.
Honda said owners of Civic sedans which are not specified above have no reason to worry about their SRS airbag inflator container because their specifications are different.
"Other Honda models such as the City, Jazz, Accord, CR-V, Pilot, Odyssey and HR-V sold and distributed by Honda Cars Philippines are likewise not affected," the company said.
ADVERTISEMENT - CONTINUE READING BELOW ↓
Recommended Videos