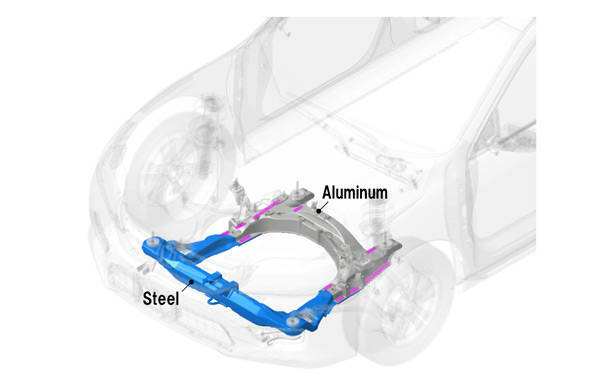 When the all-new Honda Accord goes on sale in the United States this month, it will come with a new technology that Honda has developed for it--by welding together steel and aluminum and applying it for the first time ever to the subframe of a mass-production vehicle. According to the Japanese carmaker, this hybrid-structured subframe makes it possible for the vehicle to achieve both weight reduction and increased rigidity.
With the aim of reducing vehicle weight to improve fuel economy, Honda focused on friction stir welding and developed the technology for the continuous welding of steel and aluminum. This new technology reportedly generates a new and stable metallic bond between steel and aluminum by moving a rotating tool on top of the aluminum that is lapped over the steel with high pressure. As a result, the welding strength becomes equal to or above the conventional metal welding technique that is commonly used for welding identical materials like steel-to-steel or aluminum-to-aluminum.
Thanks to this new welding technology, the weight of a car's body can be reduced by 25 percent, thereby improving its fuel efficiency. In addition, electricity consumption during the welding process is reduced by approximately 50 percent. It also enabled a change in the structure of the subframe and the mounting point of suspension, increasing the rigidity of the mounting point by 20 percent and improving on the vehicle's dynamic performance.
Continue reading below ↓
Recommended Videos
After the Accord, Honda hopes to expand the use of its new welding technology to its other models soon.