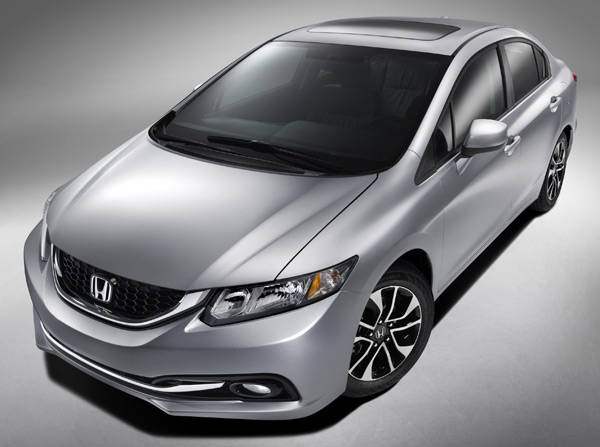 Well, that was fast. The ninth-generation Honda Civic is not even a year old in our market, and already the Japanese carmaker has given it what many believe to be a much-needed face-lift. If you were underwhelmed by the design of the current Civic, Honda wants you to know that it has swiftly moved to address this concern.
Honda has revealed the first photos of the face-lifted 2013 Civic, which is set to appear at the Los Angeles Auto Show on November 29. Aside from the cosmetic revision, Honda says the new Civic will boast "a host of safety, feature, comfort, chassis and interior styling enhancements."
The exterior design of the 2013 Civic features a new open-mouth lower bumper with a horizontal chrome accent; a sportier, black honeycomb mesh grille; new integrated fog lights on upper trims; new clear-lens corner lights; a more deeply faceted hood; a new rear bumper design; a new trunk lid; all-new jewel-like taillights; reflector treatment for the rear bumper; and a new lower diffuser panel.
"These exterior refinements infuse the Civic with a more youthful, premium style," said Vicki Poponi, assistant vice president of product planning for American Honda. "Coupling these with additional changes beneath will ensure that the Civic maintains its top-ranked status."
Continue reading below ↓
Recommended Videos
The question now is whether we'll get this redesign for our local Civics. And, if yes, when exactly?