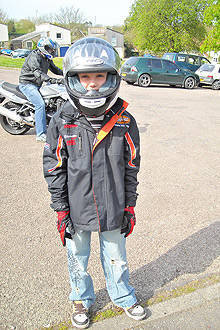 Lawmakers are now one step closer to ensuring the safety of children on motorcycles as the House of Representatives approved on second reading House Bill 5626, otherwise known as the Motorcycle Safety for Children Act of 2011.
House Bill 5626, which consolidates similar bills filed by different lawmakers, seeks to prohibit any person from transporting children below 10 years old on a motorcycle along highways unless the child is wearing a standard protective helmet as provided for under Republic Act 10054 otherwise known as "The Motorcycle Helmet Act of 2009."
According to Rep. Mary Mitzi Cajayon (2nd District, Caloocan City), one of the authors of the bill, it seeks to limit the number of motorcycle passengers to two, including the driver, except in remote areas wherein the child to be transported is requiring immediate medical treatment.
Rep. Lani Mercado-Revilla (2nd District, Cavite), also an author of the bill, said the bill "is consistent with the policy to provide safety measures to all riders and passengers particularly children passengers ten years old and below aboard motorcycles."
Rep. Romeo Acop (2nd District, Antipolo City), another author of the measure, mentioned that riding a motorcycle, regardless if one is a driver or rider, requires balancing one's body weight and the weight of the bike, especially in high-speed driving or weaving in and out of traffic.
Continue reading below ↓
Recommended Videos
"Children's physical frailty and their lack of agility (similar to) that of an adult while co-riding in a motorcycle place them at great risk," added Acop.
If passed into law, the seeks to penalize violators with a fine of P3,000 for first-time offenders. For second- and third-time offenders, besides being fined P5,000 and P10,000, respectively, their driver's license shall be suspended for one month while a violator caught for a fourth time shall have his driver's license automatically revoked.
The bill also provides that if a violation resulted in death or caused any injuries either upon the child or any other person, a one-year prison sentence will be handed down to the driver or operator of the motorcycle involved "in addition to the penalties provided under Republic Act 3815 or the Revised Penal Code, as amended, for the crime of reckless imprudence or negligence resulting in homicide or physical injuries of whatever nature."