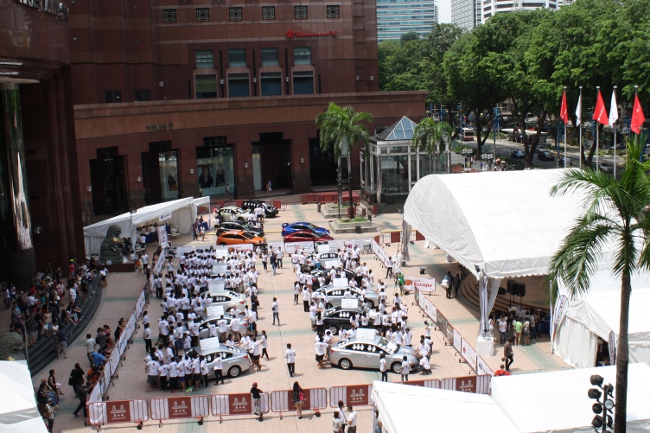 For the 10 Filipino participants who qualified for the regional final of the 2014 Subaru Palm Challenge, November 8 was the start of their sleepless nights--and bathless days--as they fought to keep their right palms placed firmly on a car's decal. The only time they are allowed to take their hands off the car is during the five-minute break, which happens every six hours.
The goal is to outlast about more than a hundred Singaporeans and 80 other regional contestants from Cambodia, China, Hong Kong, Indonesia, Malaysia, Taiwan, Thailand and Vietnam. Should one of the Philippine representatives win this endurance battle happening at Ngee Ann City in Singapore, he or she (yes, we have a female finalist) gets to bring home a Subaru XV 2.0i, a P1,298,000 crossover vehicle. In addition to the grand prize, the Philippine representatives also have a chance to win other titles (and prizes):
* Country Winner - This title is given to the last standing representative of each participating country (meaning each country except Singapore). Each country winner takes home a cash prize of SGD1,000 (about P35,000).
* Asian Winner - This title is given to the last standing regional contestant (outside Singapore). The Asian Winner brings home SGD5,000 (P175,000). Last year, Filipino contestant Alex Neblasca brought this title home.
Continue reading below ↓
Recommended Videos
* Country Team Winner - This title is given to the contingent whose participants have the longest combined standing time. Along with this title is a cash prize of SGD10,000 (about P350,000). Last year, the Filipino representatives' teamwork paid off as they bagged this title.
Running for 13 years now, the challenge has been introducing new schemes every year. In 2012, the endurance contest participants were treated to an extra 11 seconds of time-out during the 7pm family break. In 2013, rewards were drawn every 12 hours among the contestants.
This year, the organizers are giving everybody a chance to help family members or friends competing in the Subaru Palm Challenge win an extra break of five minutes. They must join an online game on www.carchallenge2014.com and be one of the top 10 scorers. By being one of the 10 best online players, their supported participants get the extra five-minute break. The online scoreboard resets after every break, and the public contest ends when only 11 challengers are left on the field.
So, if one of your dear ones is competing, lend a hand by helping them win an extra five-minute break!