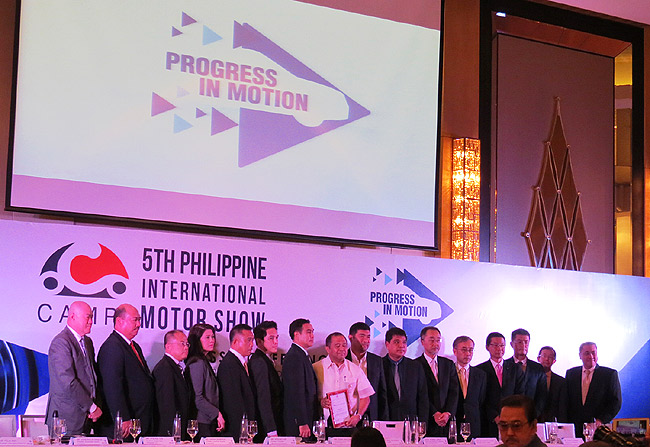 Who's excited for the Chamber of Automotive Manufacturers of the Philippines' (CAMPI) biennial motor show? Happening on September 18-21 at the World Trade Center in Pasay City, the 5th Philippine International Motor Show (PIMS) will highlight the growth of the local automotive industry, its milestones and its contribution to the country's economy.
CAMPI has also been working in conjunction with the ASEAN Automotive Federation to ensure that the local automotive industry meets regional standards. The organization believes that the Philippines can make its mark in the region and be an ASEAN automotive production hub.
So, if you're still not thrilled for the fifth installment of the motor show, here are five reasons to drop by the event in September:
1. Check out the latest cars in the metal. Participating CAMPI members will showcase their latest vehicles, services and technologies. Check out the booths of BAIC, BMW, Daewoo, Honda, Isuzu, JMC, Kia, Lexus, Mazda, Mercedes-Benz, Mitsubishi, Nissan, Peugeot, Suzuki, Toyota and Volkswagen.
2. Take a peek into the future. Prototypes, concept cars and the latest automotive technologies will also be featured at the show.
3. See how the local automotive industry has progressed. Do you love both classic and modern cars? If you do, you're in luck. You will certainly enjoy the display called "Progress in Motion: The Evolution of the Philippine Automotive Industry." Twelve iconic cars that represent six decades of automotive trends in the country--from the classic "Ponton" Mercedes-Benz of the '50s to this decade's Suzuki Swift and Nissan 370Z--will be on display.
Continue reading below ↓
Recommended Videos
4. Get behind the wheel. For those in the market for a new car or just curious about the performance of the latest models, test-drive opportunities will be provided at this year's PIMS.
5. Treat your ride. If you own a car yourself, check out the after-sales exhibit, which will be introduced for the first time at the show. You can choose aftermarket products, upgrades and services for your precious ride.
Tickets to the 5th PIMS can be purchased at the venue for P100 each.
Photo by Andrew Guerrero