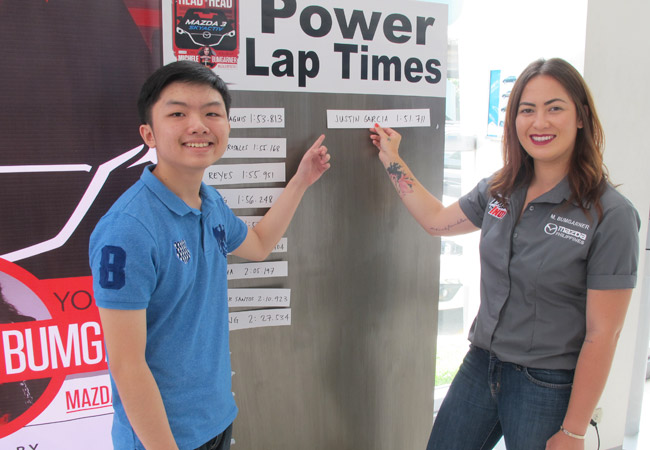 Tomorrow, June 21st, we will all find out if Road To Indy race driver Michele Bumgarner can be beaten in a driving contest using the all-new Mazda 3 at SM Mall of Asia (Block 12 parking area). In this event--called "Head To Head: Can You Beat Michele Bumgarner in an All-New Mazda 3 Skyactiv?"--Michele will be challenged by the last person standing from a field of 30 competitors.
But there's more to the event than just this one-on-one race with Michele Bumgarner in a Mazda 3 Skyactiv. Here are six other things you and your loved ones can do at this fun-filled event:
1. Test-drive the all-new Mazda 3 Skyactiv. Berjaya Auto Philippines, the official distributor of Mazda vehicles in the country, is bringing its newest compact sedan and hatchback to the event, so you can take a closer look at their exterior, inspect their interior and test-drive these babies.
2. Check out the scaled-down versions of Top Gear tracks. The qualifiers and Bumgarner will race on these scaled-down TG circuits. It's our way of bringing in Top Gear fun for everyone to check out! This is also where our lovely Road To Indy racer will take 10 Category B winners out for a joyride.
Continue reading below ↓
Recommended Videos
3. Watch the only Asian driver in the Road To Indy race series (Pro Mazda division). The beautiful Michele Bumgarner had humble motorsports beginnings, but she has come a long way since. To date, she has represented the country at different motorsports events in the world. How cool is it to be able to watch her drive in person?
4. Meet Mazda car clubs and share their passion for the Japanese automotive brand. If you're a Mazda owner and want to mingle with fellow Mazda owners, this is the perfect occasion to do so. Share the love for cars and enjoy the event with your fellow gearheads.
5. Set the fastest time on a driving simulator and win a cool prize. If you belong to a Mazda car club, step up and represent your group! The car-club member with the fastest lap wins a special prize (trust us, you want this prize).
6. Hang out with the Top Gear Philippines staff. The whole TG gang will be there. Chat with them, laugh with them, take selfies with them...they'll be available all day to keep you company.
The fun starts at 8am, with a party concluding the event until 9pm. Admission is absolutely free. See you there!