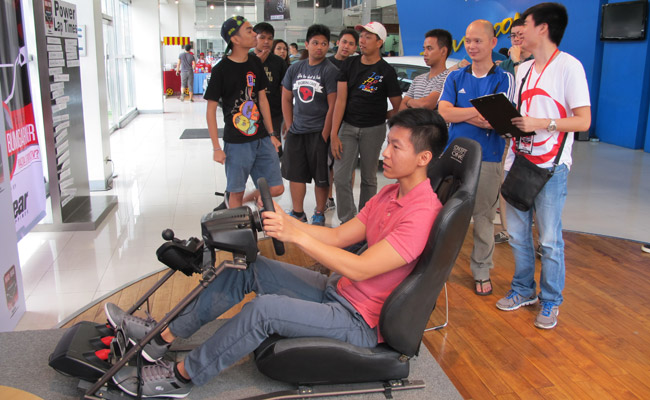 Last week, we dared our readers to beat Michele Bumgarner in a driving contest using the all-new Mazda 3 Skyactiv. Aspiring participants who were up to the challenge had to join a virtual racing contest on PlayStation.
The qualifying leg happened over the weekend at Mazda Alabang, Mazda Greenhills and Mazda Pasig. And the results have been tallied. Below is the list of the top 30 qualifiers and their official times. Note that several participants who posted faster times than some of the people on the list were deemed ineligible because they either did not have a passport or were discovered to have raced in a motorsports event. (Read the requirements here: Can you beat Michele Bumgarner in an all-new Mazda 3 Skyactiv?)
The marshals painstakingly went through the forms filled out by participants who posted the fastest times. They verified whether a participant holds a passport valid until February 2015. This is to make sure that in case the driver beats Michele Bumgarner this coming June 21st, he or she can claim the prize, which is a trip to Sonoma, California, on August 21-25 to watch a Road To Indy race. During this filtering process, several participants were disqualified.
The names of the qualifiers were then sent to Automobile Association Philippines, as well as to the organizers of various local races (including Circuit Showdown) to check if these participants had been issued racing licenses or had participated in an organized motorsports event in the past. More names were then dropped from the list.
Continue reading below ↓
Recommended Videos
Finally, the official 30 participants underwent a workshop today at the Mazda Training Center in Makati. Check out the photos below after the video.
Now, if you missed the qualifying leg or failed to qualify, you are still invited to join the fun on June 21 at SM Mall of Asia (Block 12 parking area), starting at 8am. In the meantime, enjoy our video of the qualifying round.
Category A qualified drivers
Rank
Name
Best lap
Mazda dealership
1
FERDINAND GULLE JR.
01:48.868
PASIG
2
PAOLO ALCANCE
01:48.953
ALABANG
3
JAN MILLARD LACUNA
01:50.180
GREENHILLS
4
LUIS MORENO
01:51.715
GREENHILLS
5
ALDRE ROSS SOLIVET
01:52.517
ALABANG
6
JASON CHUANG
01:53.114
GREENHILLS
7
RAMON RICARDO HERMOSO
01:54.333
ALABANG
8
GUSTAVO FERNANDES
01:54.455
PASIG
9
JESUS SAAVEDRA JR.
01:55.050
GREENHILLS
10
ARSHED MATTEW ROSALES
01:55.168
GREENHILLS
11
JAYPE LANIOG
01:55.213
GREENHILLS
12
ARAN JOEL SILVESTRE
01:55.283
ALABANG
13
RACHEL SARMIENTO
01:55.407
ALABANG
14
FRANCIS THOMAS ZAMORA IV
01:55.610
PASIG
15
RAYMUND VICTOR AGUILAR
01:55.639
ALABANG
16

MARTIN VILLAFLOR

01:55.

761

ALABANG

17

DAVID GONZALEZ



01:55.

902

PASIG



18
ELLJAY MUTUC
01:55.913
ALABANG
19
DARYLL DAVID
01:55.923
GREENHILLS
20
GENESIS MARFIL
01:56.036
ALABANG
21
BRIAN CHING
01:56.248
GREENHILLS
22
RICHARD NATIVIDAD
01:56.387
ALABANG
23
MARK FLORES
01:56.917
PASIG
24
IRWIN KEVIN CARPIO
01:57.402
GREENHILLS
25
FRANCISCO CARPIO
01:57.712
PASIG
26
TIM MELENDREZ
01:57.914
GREENHILLS
27
NATHAN DOMINIC RIVERA
01:59.917
ALABANG
28
KIT STEPHEN AGAD
01:59.976
PASIG
29
VON TRISTAN SANTIAGO
02:00.700
ALABANG
30
DIEGO SEBASTIAN CARDENAS
02:01.202
GREENHILLS
If you're viewing this on a mobile device and can't see the video, please click here.