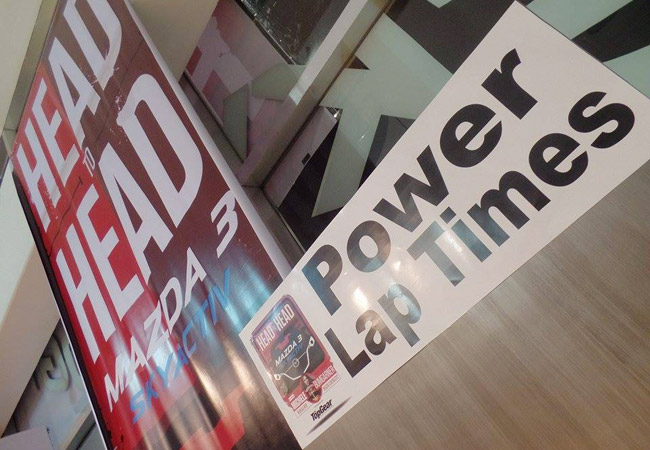 Yesterday, we told you that if you could beat Michele Bumgarner in a driving contest using the all-new Mazda 3, we would send you to the United States on August 21-25 to watch her compete in a Road To Indy race at the Sonoma Raceway in California. But before you could get that once-in-a-lifetime shot at Michele, you'd have to qualify first.
The event--called "Head To Head: Can You Beat Michele Bumgarner in an All-New Mazda 3 Skyactiv?"--will take place on June 21 (Saturday, from 8am onwards) at the SM Mall of Asia Block 12 parking area. On that day, 30 participants will try to be the last man (or woman) standing in a knockout format, and earn the prestigious right to race head-to-head with Michele in similarly spec'd Mazda 3 units.
Now, how do you become one of the 30 participants? You need to qualify first. And that means you need to attend this weekend's two-day qualifier on June 14 (Saturday) and June 15 (Sunday), from 9am to 5pm, at the following Mazda showrooms:
* Mazda Alabang
* Mazda Greenhills
* Mazda Pasig
There's no need to pre-register. You just walk in and play some racing video game on a driving simulator rig (yes, exactly like the one in these photos). There are also no registration fees to be paid. Just come and have fun racing on a virtual PlayStation track. If you crack the top 30 times, you qualify for the main event on June 21, during which you will race an actual Mazda 3 car.
Continue reading below ↓
Recommended Videos
Top Gear Philippines editors will also be present at the qualifier venues this weekend. They will hang out with you, and they will be the ones to post your time on the Power Lap Times board. If you have a kid who's at least 10 years old, bring him/her as well. If he/she delivers one of the 10 best times in the minor category, he/she gets to ride shotgun with Michele Bumgarner during the main event.
See you this weekend! Be early to avoid a long queue should there be a big turnout of hopefuls. To check if you're eligible to join, see the requirements here.
Challenge accepted?