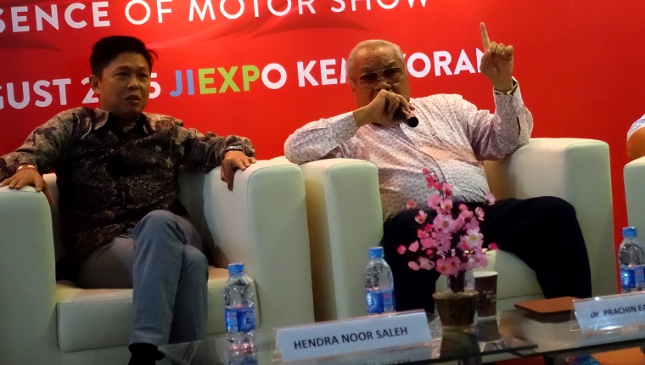 With a population of more than 200 million people, Indonesia is a country whose automotive market has huge potential. And the directors of Dyandra Promosindo, the organizer of the Indonesia International Motor Show (IIMS), hope to further fuel the passion for cars through its annual exhibition by inviting local car builders and car restorers to showcase their work at the show.
"We have a national car, and it represents our passion in the automotive industry," Dyandra president and director Ery Erlangga told TopGear.com.ph in an exclusive interview. Director Muhammad Riza also noted that IIMS is for everyone, including children. "It showcases entertainment, education and lifestyle--everything and anything under the umbrella topic of automotive," Riza said.
This year's IIMS is getting a shot in the arm as it partners with Grand Prix International, the organizer of the bigger Bangkok International Motor Show that attracts 1.4 million visitors yearly. Despite no longer being supported by the Indonesian Automotive Industry Association (Gaikindo), which is simultaneously running its own motor show, the opening day of IIMS attracted more visitors than the previous year's first day.
The Philippine automotive industry may learn a thing or two from the sound bites we got from our interview with Dyandra's executives and from the press conference, which was graced by Dr. Prachin Eamlumnow of Grand Prix International.
Continue reading below ↓
Recommended Videos
* Dr. Prachin noted that cars are a necessity in Indonesia, and that the younger members of Indonesia's population would buy a car before they would purchase a house because the infrastructure for public transportation is not yet in place (sound familiar?). For one, Jakarta's construction of a light railway transport system is not yet done--it has been ongoing for two years now.
* The big boss of the premier motor show organizer also noted that for the Indonesian automotive market to grow, it needs more roads and infrastructure to accommodate the volume of cars (again, just like the Philippines).
* According to Erlangga, Indonesia is home to many car builders. Because they do not get enough support, their creations are usually sold to enthusiasts in the United States and Canada. Erlangga revealed that Dyandra is looking into organizing a car builders' show.
* Indonesia's secondhand car market is bigger than the brand-new car market. So much so that a dedicated show specifically for the former may be feasible. "We're planning to do it and thinking of how to monetize it," Erlangga said. He further shared that they've been studying Bangkok's five-year-old secondhand car show.
* As mentioned earlier, Indonesia has a national car called Esemka. This neighbor of ours also has a 100% locally made buggy called Komodo, which is displayed at the ongoing IIMS.
* Indonesia has only one racetrack. (Yes, the Philippines has more playgrounds for petrolheads.)
"We see Indonesia not as competitors in the ASEAN region, but as partners," said Dr. Prachin in his remarks. "We see Thailand and Indonesia as siblings. The countries in ASEAN should work together to grow the automotive industry of the region."
Dyandra associate director Michael Bayu Sumarijanto announced that more surprises are in store for its show next year. "Be ready for what we will dish out next year," he said. Erlangga hinted that car and motorcycle parts recyclers who turn old parts into furniture and art will be at IIMS next year.
The 2015 Indonesia International Motor Show runs until August 30.