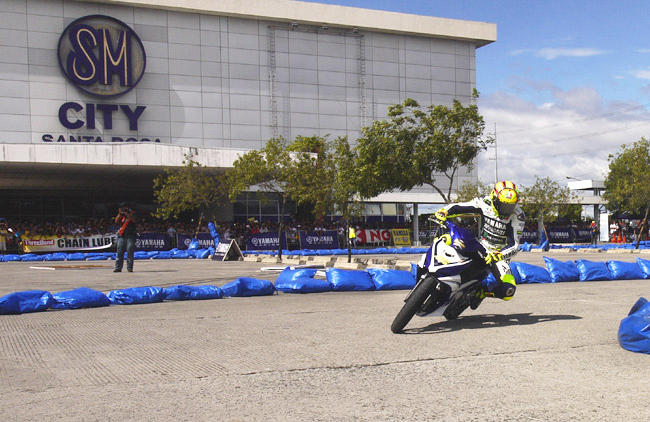 Six-time MotoGP champion Valentino Rossi arrived in the country to help raise funds for Yamaha's "Champions Rebuild Lives," the motorcycle company's corporate social responsibility activity for the victims of typhoon Yolanda. Also popularly known as "The Doctor," Rossi came straight from a morning flight to SM City Santa Rosa for the press conference on February 23. When asked where Filipinos place on his list of favorite crowds, Rossi answered: "In the top five, very close to the podium."
Fans flocked the world champion, and he signed as many caps, helmets and jackets as he could.
"I'm here to help the Philippines after typhoon Yolanda in November," said Rossi. "It was a big disaster. When we hear of a bad thing like this, we feel like we are able to do nothing. We try to give help, take some mourning through charity and stay together today. Together with Yamaha, we'd like to lend a small hand to the Philippines."
On top of Rossi's goodwill, all the proceeds from the sale of premium Yamaha merchandise will go to the project. The charity was made possible through the efforts of Yamaha Motor Ltd., Yamaha Motor Racing, MotoGP and Yamaha Motor Philippines.
Rossi's arrival was also timed for the opening leg of the Yamaha GP 5, held on the SM City Santa Rosa grounds. He donned his racing suit with his signature yellow motif, got on a Sniper and rode three laps of the makeshift track.
Valentino Rossi returned to Yamaha last year after two fruitless seasons with Ducati. Last year, he won the Dutch Grand Prix at Assen and finished fourth overall. "I'm glad to have returned to Yamaha and to have a competitive bike again. Winning again is very important for me," he said.
ADVERTISEMENT - CONTINUE READING BELOW ↓
As for the coming season, what are The Doctor's goals and expectations?
"For sure we have to push harder," Rossi said. "My teammate Jorge Lorenzo is very competitive. And Marc Marquez and Dani Pedrosa are also very fast. We'll try to give the maximum. It's the 10th year since I first rode with Yamaha and won my first championship with them, so the season will be special."
Can Valentino Rossi win another championship this season?
Photo by Niky Tamayo