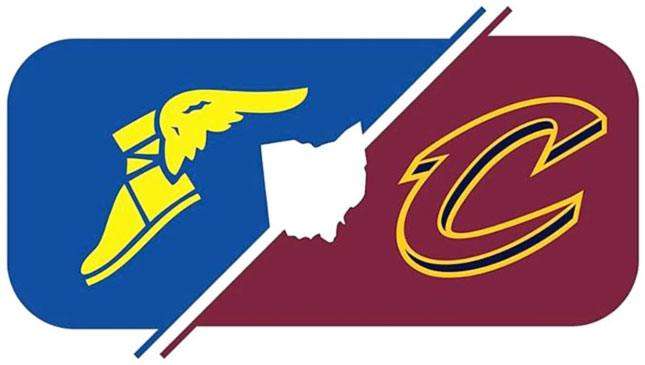 The Cleveland Cavaliers is the latest National Basketball Association (NBA) team to place company logos on its jerseys, after the organization came to a multi-year agreement with Ohio-based global tire manufacturer Goodyear.
Beginning the 2017-2018 NBA season, the Cavs will sport uniforms featuring Goodyear's iconic Wingfoot logo (seen above) in gold and navy blue, and gold and wine colors. The former will be seen on the team's wine-colored game jerseys, while the latter on the team's white jerseys.
Goodyear CEO Rich Cramer calls the partnership a "natural fit," citing the two brands' Northeast Ohio roots. "Goodyear has always been connected to the Cavs from our blimp coverage to the tremendous passion of our associates for the team, and we're excited to make this relationship even stronger," he said.
Team general manager David Griffin, meanwhile, says the deal is something the entire franchise can believe in: "The connection represents something deeper than basketball and is forged on a common platform to operate physically and culturally at the highest level."
ADVERTISEMENT - CONTINUE READING BELOW ↓
Cavs star and former NBA Most Valuable Player LeBron James expressed excitement over the deal, saying he felt a sense of pride and that having the Wingfoot logo on the team uniforms next year feels special. "I can't imagine a better situation with our new Cavs jersey than bringing together Nike and Goodyear, two companies that mean a lot to me and my family," he said.
The Cavaliers follow in the footsteps of the Utah Jazz, Brooklyn Nets, and a handful of other teams who've inked uniform/company logo deals. Will we be seeing players wearing any car brands on their jerseys any time soon?
ADVERTISEMENT - CONTINUE READING BELOW ↓
Recommended Videos