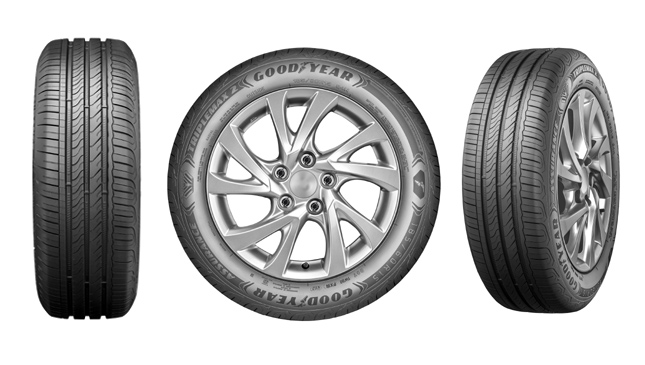 If the past few weeks have been any indication of what to expect during future downpours, motorists are going to have to rethink the way they drive.
Floods and worsening traffic conditions are two factors that we'll have to keep an eye on moving forward. But perhaps more important than both is driving on wet roads, where one small misstep or wrong calculation can lead to a serious accident.
If you're looking for a little extra surety for yourself, your car, and your passengers, Goodyear might have a little special something worth looking into. The global tire manufacturer has launched the Assurance TripleMax 2 locally, and it comes equipped with HydroTred Technology.
Continue reading below ↓
Recommended Videos
As the name implies, HydroTred Technology provides motorists with better braking performance and grip under wet driving conditions. Its footprint is squarer, providing more contact with the vehicle's driving surface. Goodyear says this leads to better cornering and shorter braking distances on wet roads--without sacrificing on quietness and comfort.
The launch of this new tire is also in celebration of the tire brand's 120th anniversary. Goodyear Philippines market director Kenneth Sambajon says the TripleMax 2 is an embodiment of what the company's products are all about.
"To celebrate our 120th global anniversary, it is only fitting that we release a tire that perfectly captures what Goodyear has been passionate about throughout the years: innovation," Sambajon says. "With the Assurance TripleMax 2, Filipino drivers can rest assured that their travels would be safe, regardless of the weather conditions."
The TripleMax 2 comes in a wide variety of sizes, and can fit on a large number of car models including the Toyota Vios, Honda Jazz, Mazda 2, Ford Focus, Hyundai Elantra, Subaru XV, Chevrolet Trax and Suzuki Swift. And that's just to name a few. For more details, interested motorists can check out the official Goodyear Philippines website or Facebook page.