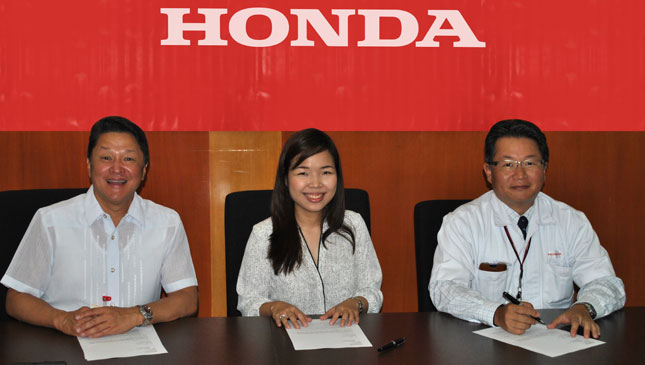 With the recent introduction of the Mobilio and the coming launch of the HR-V, Honda Cars Philippines has a growing lineup of models that need to be pushed to the market. These two models have no immediate predecessors to replace, making them additions to Honda's product lineup, and not replacements.
Hence, more dealerships are always welcome for the Japanese carmaker. The latest addition to its dealer network will come from the south, in Zamboanga, to be exact. Last May 22, a partnership was signed between HCPI and the newly formed Honda Cars Zamboanga (HCZM). Present at the contract-signing were HCPI president Toshio Kuwahara, and HCZM principals Anthony Cheng and Bryna Gayle Lim. The new Honda dealer will be headed by Yee Siu Lim.
HCZM will be located on Mayor Vitaliano Agan Avenue in Camino Nuevo, Zamboanga City. A landmark is the KCC Mall just across the future dealership. With the new dealership having 1,800sqm of land area, Honda's sales-and-service facility will serve residents of Zamboanga as well as nearby towns and provinces. General repair, preventive maintenance and body painting will be offered by this establishment.
HCPI says HCZM will open by the fourth quarter of this year. Something Zamboangueños can look forward to.
Continue reading below ↓
Recommended Videos