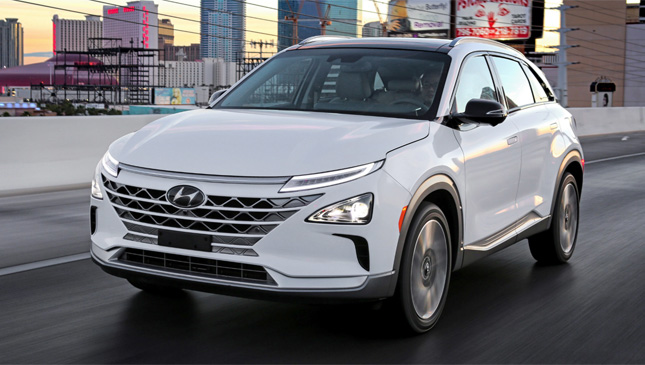 Remember when mentioning Hyundai and Audi in the same sentence might seem like the set-up to a lazy joke? If you need any further proof the pair are on similar pegging now—beyond brilliant Hyundais—then the pair are now working together.
This isn't Volkswagen buying yet another brand. Hyundai makes nearly as many cars as the whole VW Group, so it'd never happen anyway. Nope, this is a tie-up between Hyundai and Audi to help bring hydrogen cars to our roads.
ADVERTISEMENT - CONTINUE READING BELOW ↓
Dubbed a "cross-license agreement," it's going to see the pair share patents to speed up the development of fuel-cell vehicles: long seen as a more plausible, easier to digest alternative to electric cars, but with a nightmarish infrastructure and sky-high showroom prices derailing their case.
The pair "will make joint efforts in developing FCEVs, to lead the automotive industry to a more sustainable future," we're told. In the short term, this means Hyundai effectively gifting Audi the parts and know-how that go into its new Nexo fuel-cell SUV, presumably to go off and make its own version.
"Audi—responsible for the development of fuel-cell technology within the Volkswagen Group—will also be able to take full advantage of Hyundai's FCEV parts supply chain," Hyundai says.
So having given up its tech and parts, what does Hyundai get out of it? New opportunities. You probably don't even know it, but Hyundai was the first mass producer of fuel-cell cars, and has been selling them since 2013. A tie-up with Audi might just make people know—and care—what Hyundai's up to. And perhaps, as a result, more willingly accept that electric cars aren't the only solution to drying oil supplies.
ADVERTISEMENT - CONTINUE READING BELOW ↓
Recommended Videos
Over to you, then: What would you like to see from Hyundai and Audi working together on fuel cells? Beyond, of course, the zero-emissions R8 we've long been promised but not yet given…
NOTE: This article first appeared on TopGear.com.ph. Minor edits have been made.