Keeping our cars clean these days has become more important than ever. As helpful as our vehicles have been for us throughout this COVID-19 pandemic, it has to be said that they can also be a source of the further spread of the virus, if not cleaned properly.
The problem with sanitizing and disinfecting our cars, however, is that the process can be a bit tedious, nor is it foolproof. To simplify and automate the process, Hyundai is now working on specific technologies to develop self-sterilizing cars in the future.
The Korean carmaker had given a lot of attention to 'car hygiene' way before this pandemic began. It has already introduced antibacterial paint and elements in models like the Genesis G70 and the 2011 Sonata. Now, it's working on other tech—specifically ultraviolet lamps—that it plans to incorporate in its vehicles in the future.
Hyundai wants to use UV lamps to effectively sterilize high-contact interior parts like seats, floor mats, the dashboard, and the steering wheel. These lamps will be activated whenever the cars are empty because direct UV rays are harmful to human skin. And given that one UV lamp installed on the ceiling won't be enough to reach all the nooks and crannies of the cabin, the carmaker is also planning to develop separate cabin lights that will enable better sterilization overall.
ADVERTISEMENT - CONTINUE READING BELOW ↓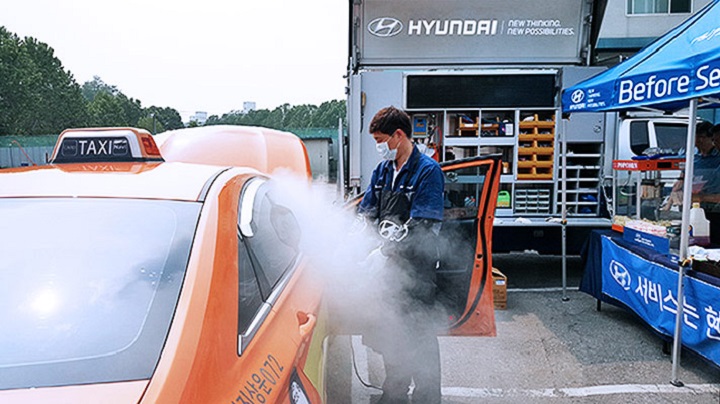 Hyundai has put its best foot forward throughout the coronavirus outbreak, especially in its hometown of South Korea. It has provided helpful services such as free cleaning and disinfection of car interiors not just for Hyundai vehicles, but also for cars from other brands as well. One heck of an initiative, we'd say.
ADVERTISEMENT - CONTINUE READING BELOW ↓
Recommended Videos
So, what's your take on these self-sterilizing cars? With Hyundai saying that added safety features like these will jack up the prices of its cars, do you think other automakers should take a similar approach? Tell us in the comments.
For more of our stories on the ongoing crisis, click here. For the latest news and updates on COVID-19, check out reportr.world/covid-19.