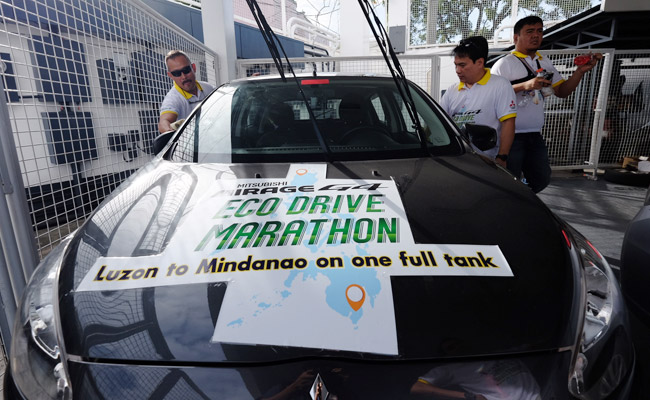 On December 2, Mitsubishi Motors Philippines embarked on a journey whose only mission was to break the unofficial Philippine record for fuel mileage, which was 1,402km on a single tank of fuel as achieved by a Honda Jazz during the Petron Xtra Mile Challenge's "Champions Edition" in 2008. The local distributor of the Japanese carmaker wanted to prove that a Mirage G4 sedan or a Mirage hatchback could easily surpass that and, in fact, go 1,450km on just one full tank.
Hence was born the "Mitsubishi Mirage G4 Eco Drive Marathon: Luzon To Mindanao On One Full Tank." The three-car test fleet--composed of a Mirage G4 sedan MT, a Mirage G4 sedan CVT and a Mirage hatchback MT--was doing quite well for the first four days of the run until December 4, when the group had to take a respite due to the threat of super typhoon Hagupit. At the time, the Mitsubishi cars had traveled more than 900km, with still quite a lot of fuel remaining in their tanks.
"We are pausing the project because of the typhoon," MMPC's Arlan Reyes told TopGear.com.ph last week. "Safety comes first. We left all our cars with our dealership in Iloilo. We are flying back to Manila. We will resume and keep you updated."
Well, today is the day the group is resuming the Mirage/Mirage G4 eco run. According to Reyes, the cars were kept in a cool, secure place that minimized the occurrence of evaporation. Remember that no fuel will be added to the cars. So these cars will soldier on with exactly the same amount of fuel as when the run was halted.
Will Mitsubishi's small cars be able to still go for another 500km in order to break the Jazz's record? That remains to be seen. Once the cars have run out of fuel, we will publish a day-to-day report of what transpired during the eco run--complete with exclusive photos.
For now, we wish the group a safe drive all the way to the last drop.
Photos by Mikko David