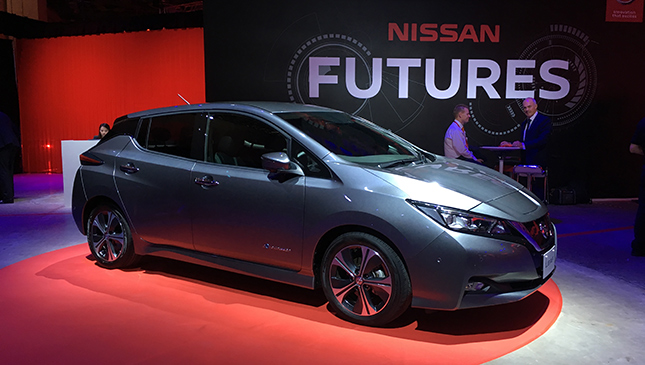 During a quick trip to Singapore with Nissan Philippines, we got to to see the company's plans for the future when it comes to mobility and electrification. The coolest part was getting to hear from the top executives themselves about what's in store for the future.
Although the Philippines is still behind when it comes to infrastructure to support EVs and autonomous driving, at least we are making some headway when it comes to government regulations. EVs are exempted in the revised excise tax scheme, in case you didn't know. Here are some takeaways from the presentations this morning.
Continue reading below ↓
Recommended Videos
Yutaka Sanada, regional senior vice president and head of Asia and Oceania, had these things to say:
"We are at a crossroads, because major Southeast Asian cities already have a reputation for epic traffic. Pollution and traffic is a consequence of the growth of the economy. It is urgent to come up with solutions. Nissan can drive those solutions."
"We want to help the cities manage energy and mobility better, with electrification and autonomous driving, but the government, manufacturers, carmakers, and stakeholders all play specific roles."
"According to surveys, 37% SEA customers are open to buying an EV, and will switch to EVs if taxes are waived. Nissan has already sold 300,000 EV units, the best-selling of which is the Leaf. It's the most advanced EV, with the widest reach."
"The Leaf will be sold in the Philippines and Indonesia as the next step. I am accelerating this, but market by market has a different process. We are trying to minimize the lead time. But within this fiscal year, the new model will be launched in Australia, Hong Kong, Malaysia, New Zealand, Singapore, South Korea, and Thailand."
Vivek Vaidya, senior vice president of mobility, had this to add: "Filipinos and Indonesians are the most eager to try EVs, but there's a barrier when it comes to perception of safety, like if it rains or when there's a flood. In the Philippines, there are concerns are about safety, charging, and range. Of course all customers want tax incentives."
"There are three kinds of EV customers: trendy enthusiasts who think EVs are the next cool gadget (39%); environmentalists who are looking at the green aspect and want a positive impact with air quality (34%); and utility drivers who are looking at an inexpensive means of transport with minimal maintenance costs (27%)."
We understand that it isn't easy to launch an EV in a country that has never sold them before. It requires government, infrastructure, and the people to get involved. We are looking forward to seeing the Leaf, though. More from the Nissan Futures event as it happens. Watch this space.