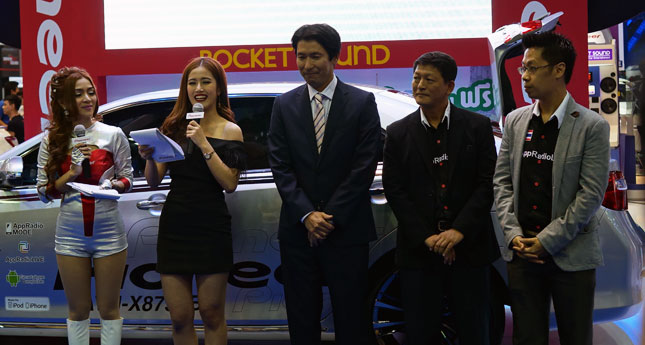 With its position as the premier car show of the ASEAN region's automotive hub, the ongoing Bangkok International Motor Show is also an ideal venue for aftermarket manufacturers to introduce their important products. One such brand that held an official launch during this year's show was Pioneer, a car audio company very well known among Filipino motorists.
Pioneer introduced its flagship multimedia receiver, a 2-DIN head unit called the AVH-X8750BT. This device offers a range of audio, video and smartphone connectivity features, accessed through its WVGA touchscreen. Prominent offerings include advanced Bluetooth capabilities, MirrorLink interoperability and high-fidelity FLAC file playback.
According to Isao Nomura, deputy general manager for business planning and marketing of Pioneer Electronics AsiaCentre, "Pioneer always aims to be the first to deliver innovative products to our customers. With the AVH-X8750BT, Pioneer is one of the leading manufacturers to implement a wide range of new smartphone intergrations into our aftermarket in-dash receivers."
The Japanese company was also proud to highlight its AppRadio Mode and AppRadioLIVE. The former lets users view and control third-party apps on their iOS or Android smartphones, directly through the head unit's touchscreen display. AppRadioLIVE, meanwhile, is a proprietary app developed by Pioneer to let drivers access media content optimized by Pioneer. Owners have to download content from either the Google Play store or the iTunes store, and launch it on AppRadio.
Continue reading below ↓
Recommended Videos
Both AppRadio Mode and AppRadioLIVE were developed for those markets that can't use Apple CarPlay or Android Auto. Sadly, we're one of those markets.
Still, the AVH-X8750BT has a lot to offer. It uses the best Bluetooth tech right now for clear voice calls and dynamic music. It can also play a wide range of video codecs like MPEG4, H.264 (FullHD), WMV, MKV and the aforementioned FLAC, so there's no need for file conversions. You can now catch up on your Game Of Thrones episodes when traffic isn't moving.
This head unit also has an auto-time alignment feature. This means the sound from all car speakers will reach the driver's ears in perfect sync (although this requires the optional CD-MC20 microphone accessory).
Some might think that with increasingly advanced stock audio systems found on new cars, the aftermarket might suffer. But as we can see in the case of Pioneer, it only made the company innovate more.
We'll give you an update on when we'll get this car-audio product in our market.
Photos by Dinzo Tabamo