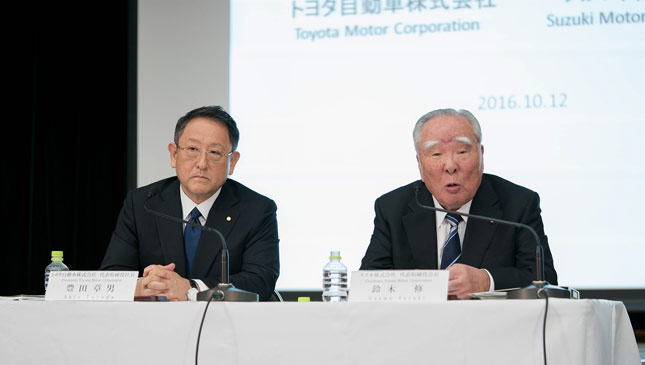 Partnerships between carmakers usually have mixed results, depending on the scope of their vision and how they stand to benefit from one another.
According to a report by Forbes, there is another partnership in the works that could potentially shake up the current automotive market. Toyota Motor Corporation and Suzuki Motor Corporation have announced that they will collaborate on possible partnership opportunities. Their goal, according to Toyota's official press release, is "to strengthen collaboration in the environment, safety, and information technology fields."
ADVERTISEMENT - CONTINUE READING BELOW ↓
Osamu Suzuki, chairman of Suzuki, said in a statement: "Toyota is the industry-leading, and the most reliable company which is actively working on various advanced and future technologies. I am appreciative that Suzuki is able to start discussions with Toyota to explore ideas on a partnership. I first spoke about this possibility with Toyota's honorary chairman Shoichiro Toyoda, and am very grateful that president Akio Toyoda has also showed an interest. We will proceed with discussions for the future of Suzuki."
The president of Toyota added: "As the environment which surrounds the automobile industry has been changing drastically, we need to have the ability to respond to changes in order to survive. In addition to the R&D which each company is working on individually, it is very important now to have partners who share the same goal and passion. We would like to always keep our doors open for new partnership opportunities, which will contribute to the making of ever-better cars as well as to the development of the automotive industry."
ADVERTISEMENT - CONTINUE READING BELOW ↓
Recommended Videos
As of now, there are no concrete details available yet regarding this venture. What we do know is that both companies intend to operate as separate entitites and "continue to compete with each other in a fair and independent manner" as part of the partnership. What's interesting to note is that Daihatsu, Suzuki's main rival, is a wholly-owned subsidiary of Toyota.
What do you guys think will be the outcome of the Toyota-Suzuki collaboration?